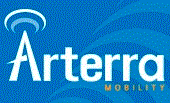 We are proud to be partnering with NTT DOCOMO USA, one of the world's leading telecommunications carriers, as they extend their successful wireless services from Japan to the United States.
Bethesda, MD (PRWEB) September 11, 2013
Arterra Mobility™ (http://www.Arterra.com) is pleased to announce that it has been selected by NTT DOCOMO USA to develop and manage its U.S. Mobile Virtual Network Operator (MVNO). Chosen due to its extensive and deep expertise in launching dozens of MVNOs and a comprehensive suite of services, Arterra will power NTT DOCOMO USA's wireless services including: postpaid plans, a bilingual e-commerce platform and website, and integration with a robust nationwide GSM-based 4G and 4G LTE network.
"We are proud to be partnering with NTT DOCOMO USA, one of the world's leading telecommunications carriers, as they extend their successful wireless services from Japan to the United States. By combining Arterra's experience launching highly-scalable and customized wireless solutions, NTT DOCOMO USA's expertise in the Japanese market, and the power of a robust nationwide GSM-based 4G and 4G LTE network, NTT DOCOMO USA will offer a level of unparalleled wireless service to both their existing and new customers throughout the United States," said Daniel Neal, CEO and Founder of Arterra Mobility.
As a Mobile Virtual Network Enabler (MVNE), Arterra has a long history of building competitively differentiated services and systems for its clients. Arterra's expertise goes beyond typical BSS/OSS-focused MVNEs. By molding raw network capabilities and proprietary network design into unique and elegant customer-facing solutions, Arterra helps its clients create award-winning services that accelerate their go-to-market plans and position them to compete successfully in the marketplace.
Powered by Arterra, the enhanced NTT DOCOMO USA website will be presented in both Japanese and English. Customers will be able to purchase their devices while in Japan (for either shipment or pick-up) and will be allowed to delay activation and corresponding billing—should they choose—until they are located in the United States.
"When NTT DOCOMO USA decided to expand its wireless services outside of Japan, we had multiple companies to choose from. But the capabilities and sophistication that Arterra provides simply can't be matched by anyone else. Through our technological and business partnership with Arterra, we are able to offer more plans, new services and additional features that we have never been able to offer our customers in the U.S. And the carrier-grade reliability and scalability Arterra offers is critical to us, as well. We're thrilled to be partnering with Arterra on this venture," said Masaaki Maeda, President and CEO of NTT DOCOMO USA, Inc.
Arterra's MVNE/MNVO solutions enable its clients to deploy a custom wireless solution under their own brand with rapid time-to-market, lower capital expenditure, and the lowest total cost of ownership. Arterra provides full wireless service lifecycle support, including product design, implementation, testing, deployment, service management and service optimization. The full Arterra suite of services includes real-time rating and controls; data filtering; mobile walleting and location services; custom web interfaces; CRM and customer self-care; carrier integration; distribution and payment support; multi-language customer care; and forward and reverse logistics. Even experienced telecoms can take advantage of the proprietary patented technology of Arterra; capabilities and expertise that extend through the entire value chain; and its existing integrations with the major wireless network operators.
###
About Arterra Mobility
Arterra Mobility powers a wide range of innovative wireless services. With a highly-scalable, carrier-grade service platform that provides network services, OSS, BSS, logistics support, customer care and marketing, Arterra Mobility, through its MVNE, MVNO and MVNA solutions, helps companies to develop, launch, and optimize their wireless services faster and more cost-effectively than anyone else. Arterra Mobility is a division of Kajeet, Incorporated. For more information about Arterra Mobility, please visit http://www.Arterra.com.
About NTT DOCOMO USA
Headquartered in New York, and with offices in Washington, D.C. and Hawaii, NTT DOCOMO USA, Inc. is a wholly-owned U.S. subsidiary of NTT DOCOMO. Through its wholly-owned subsidiary, DOCOMO USA Wireless, the company markets and operates mobile phone services for customers residing in the United States. DOCOMO USA also investigates business development opportunities in the wireless space in the Americas; conducts research on IT and wireless business trends and the regulatory environment; operates customer support desks throughout the U.S.; provides mobile solutions for corporate customers; and provides support to NTT DOCOMO's investor relations activities.
Arterra Mobility products and services are protected by U.S. Patent Numbers 7,881,697, 7,899,438, 7,945,238, 8,078,140 and 8,285,249. Other patents are pending.