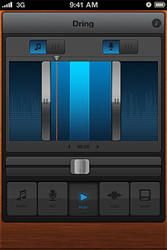 Dela Mar, California (PRWEB) September 11, 2013
JuanPablo Mariscal Jr., a 16 year old student, purchased Dring with an investment from Mar Group (http://www.margroup.com). The app was initially attractive because of how it stood out among other ringtone creators in the market. Offering features such as precise time editing, to capture your favorite part of a song, to the voice recorder, which allows you to record and remix voice recorded ringtones. With all the unique features of Dring and the ability for the user to share their ringtones through email and social media, Dring is truly an unparalleled ringtone creator app on the app market. With a plan to increase sales and to showcase how it can improve a user's Smartphone experience, JuanPablo teamed up with Rooster to provide the strategic marketing support. The young entrepreneur see's this app as a successful start to building a bigger app portfolio with his investor.
"We've used many of the ringtone creators currently on the market and believe Dring is not only the easiest to use, the experience is much more enjoyable through its slick, ultra-cool interface, with realistic remix and playback experience." Says Charles Smith, Principle at Rooster.
With the increase in users demanding more control to express their individuality and without limits, Dring (http://www.dringapp.com), with it's addictive capability, makes the perfect addition to any iPhone (Android coming soon).
About Rooster
Rooster (http://www.roosteromg.com) is an independently owned digital design and marketing agency headquartered in San Diego, CA. Rooster provides advertising, branding, environmental, packaging, industrial design, micro-demographic targeting, digital and interactive services for political campaigns, membership organizations, political consultancies and small businesses.
Contacts:
Charles Smith, Principal
Rooster
(619) 980-9839
csmith(at)roosteromg(dot)com
JuanPablo Mariscal
Margroup:
jp2(at)margroup(dot)com
(858) 344-4860