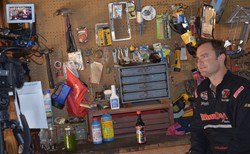 In today's digital age, it's important to give our current fans and potential new customers as much information as possible, and to have a little fun while we're doing it. - Michael Schrecker, Director of Marketing / BlueDevil Products
Charleston, SC (PRWEB) September 10, 2013
After another steamy lowcountry day in Charleston, SC, the BlueDevil Products marketing and technical team finished shooting its new series of educational "Product Spotlight" videos that will be posted on its company's social media, YouTube and Vimeo pages. With the help of NASCAR® Whelen Series Supertruck Driver Ham Morrison, the team was able to shoot a large amount of HD footage featuring the products, their applications and what to look out for when you suspect issues with your vehicles performance.
"In today's digital age, it's important to give our current fans and potential new customers as much information as possible, and to have a little fun while we're doing it!" says Michael Schrecker, Director of Marketing at BlueDevil Products. "Stop leaks in general have a bad reputation amongst car enthusiasts, so it's important to stress to the public that the hard part replacement is the best solution. However, we know that sometimes your car is just not worth that $1000.00 head gasket job or you just don't have the resources to get it done. Over the last 15 years, we have earned a large following of installers across the nation that offer and promote our product as an alternative option when the hard part replacement just isn't doable, for whatever reason."
The first installment of the new Product Spotlight (tm) video series will go public sometime in the coming weeks. To accompany the release, a new promotion on the company's facebook page will encourage its fans to share the videos amongst friends. New fans of the BlueDevil Products facebook page will also have the chance to win weekly prizes and be entered in its next grand prize giveaway. Details of the next giveaway have yet to be announced.
"We just finished our summer promotion with a giveaway of our entire product line. The response we have gotten has been awesome and our fans really like our stuff. We try to keep them engaged with news, weekly blog posts, caption contests and more," says Schrecker. "Everyone involved so far really seems to enjoy what we're doing."
Since 1997, BlueDevil Products has become a serious competitor in the automotive aftermarket with its complete line of chemical solutions. From cracked heads and radiators to oil pans and transmissions, BlueDevil Products manufactures quality sealants for various repair options in automotive systems.
To learn more about everything the company has to offer, check out it's home page at http://www.gobluedevil.com or head over to their Facebook page and become a BlueDevil Products fan.