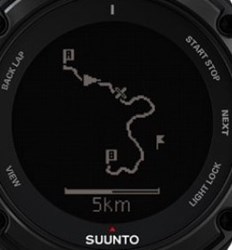 The new Ambit 2 1.5 Software upgrade adds trackback navigation to the Suunto Ambit 2 watch collection
Bozeman, MT (PRWEB) September 11, 2013
Suunto Ambit 2 has a firmware update that is a "must have" for all Suunto Ambit 2 owners according to the Heart Rate Watch Company.
TRACKBACK - ITS HUGE
"The new Ambit 2 1.5 Software upgrade adds trackback navigation to the Suunto Ambit 2 watch collection and adds a feature that only Garmin fenix had up until this time", says Rusty Squire, President of the Heart Rate Watch Company. He adds, "This is huge because now it is a fully functional navigator and offers the most advanced fitness features".
NEW RECORDING INTERVAL (POWER SAVING) OPTIONS
Initially, the Suunto Ambit 2 only allowed for 1 second or 60 second recording intervals but a 5 second recording interval has been added for power conservation. "The 5 second should be fine for hikers, while most bikers and runners will still opt for one second recording intervals for greater accuracy on distance and maps", says Squire.
SUNRISE/SUNSET TIMES
You can now view sunrise and sunset times in altimeter and barometer mode. The times are based on the last recorded GPS location, so GPS must have been activated for the times to be available.
AUTO SCROLL
"In custom sport modes, you can set the displays to automatically scroll during an exercise. In Movescount you can turn the scrolling on or off and set the scroll speed", says Squire. He adds, "While exercising, you can also turn off automatic scrolling in the options menu without affecting Movescount settings".
"There were several other swim feature enhancements but all-in-all we are very satisfied with this firmware upgrade because it went a long way toward cementing the Suunto Ambit 2 as the adventure GPS sports watch leader", says Squire.
"If you'd like to purchase an Ambit 2, Suunto Ambit 2 Sapphire or Ambit 2S then visit the Heart Rate Watch Company's website or call us at 866-586-7129", says Squire. He adds, "We also give you two complimentary fitness e-books to get you started right".