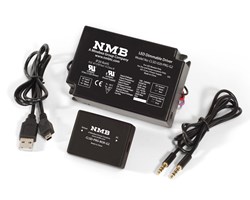 The new Performance Line of programmable drivers introduces a unique set of enhanced tools.
Chatsworth, CA (PRWEB) September 12, 2013
NMB announced today the release of the new Performance Line of programmable LED driver. The new Performance Line of drivers introduces a unique set of tools to enhance usability, flexibility, scalability and ease of use.
The new programming interface includes a dimming feature that offers a 0~10V analog dimming as well as a PWM digital option; an off-state in stand-by mode is also implemented in this design. The system protection package goes beyond the available standard requirements. It offers automatic 5s short circuit re-start protection and includes a two-system level protection where the designer can lower the maximum ambient temperature as well as the maximum operating voltage to match his application requirements. A brightness compensation feature and diagnostics tool completes this package.
The Performance Line is IP20-rated, features a start time of 1 second and is 90% efficient at full load.
These new programmable drivers are immediately available from Digi-Key and Arrow.
For OEM engineering design and support, contact us directly.
NMB's commitment to research, design and technology development of new products for the CLSD family of programmable LED drivers continues to move in the right direction. The company plans to introduce the new 22~40W Performance Line in the near future.
About NMB Technologies Corporation – NMB Technologies Corporation, a Minebea Group Company, is the world's largest manufacturer of miniature precision ball bearings and a volume leader in the design and manufacturing of precision electro-mechanical components, including cooling fans and blowers, precision small motors and mechanical bearing assemblies, as well as a total solutions supplier of backlight and LED programmable drivers. NMB products can be found in the personal computing, networking, telecommunications, home entertainment, home electronics, and automotive, medical and industrial markets. For more information on NMB Technologies Corporation, visit: http://www.nmbtc.com or contact us directly.