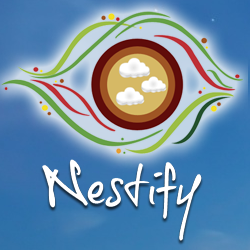 Imagine being able to have a conversation with your cloud infrastructure, websites and apps just like you would with your IT team. With Nestify, we're bringing it to reality.
Austin, TX (PRWEB) September 11, 2013
A new cloud computing startup Nestify is formally announcing the Pre Launch of its new innovative Natural language based cloud management solution. It works with leading public cloud providers such as Amazon AWS, Rackspace and Windows Azure. Current beta version of Nestify understands spoken English and allows users to talk to their infrastructure to perform simple and complicated tasks easily. While beta accounts are invitation only, anyone can request invitations on their website http://www.nestify.it by filling a small form.
Nestify offers a web based interface that helps developers perform cloud deployment, management and scaling operations just by describing them without the need for any API or tools. It uses AI logic to proactively manage and scale infrastructure to keep applications running 24x7 without need for manual intervention. This way, developers can focus on their design and coding and not have to worry about managing servers, deployment, ongoing operations, or scaling.
Nestify understands tasks described in natural English and acts on them. Cloud users can use a microphone and issue commands such as "Reboot my cloud tonight at 2 AM", "Backup my data in an hour" or "Scale up my servers". Nestify also features hundreds of ready to deploy apps and stacks that can be used on any cloud environment. Users can simply describe their application needs or specific names and let nestify do the rest. Just by saying something like "I want a wordpress blog", "Build me a LAMP stack" or "Build me something like dropbox" anyone can have matching applications running on public or private clouds instantly. Day to day cloud operations are simplified with natural language.
"Imagine being able to have a conversation with your cloud infrastructure, websites and apps just like you would with your IT team. With Nestify, we're bringing it to reality," said one of the co-founders in an interview.
Nestify's application deployment automation features:

You can deploy any web application to scalable public / private or hybrid cloud infrastructure by using nestify's rapid deployment. Users who have already built applications in languages such as PHP, Ruby, Python, Node.js can deploy them to scalable cloud just by dropping files / code archives in browser.
Users drop their apps / code archives in the browser and nestify compiles, configures and deploys it to your cloud environment in seconds with no human interaction.
Nestify takes care of building and maintaining application stacks required to run your apps smoothly.
All dependencies related to your application are automatically sorted out, installed and configured in your cloud environment. Continuous development is supported with git, svn, dropbox integration. Any new code or application updates can be pushed to your cloud environment simply by saying "refresh my application" or "publish latest code".
Infrastructure management simplified
Nestify provides all these features for existing or new cloud services on Amazon, Rackspace & Windows azure. With a few simple steps, cloud users can link their cloud provider accounts with nestify. Once linked, users can manage all aspects of their infrastructure and deploy new apps instantly. Nestify continues to add support for new providers and will soon support independent openstack clouds as well as Redhat openshift, IBM Pureflex. A spokesperson from Nestify mentioned that they are also adding support for standalone and bare metal server management in coming months.
About Nestify
Nestify is a new cloud solutions startup. With industry certified experts on the team, nestify is brining innovation and simplicity to DevOps and cloud industry. Nestify has a strong R&D team that actively works on cloud automation and natural language integration technologies.