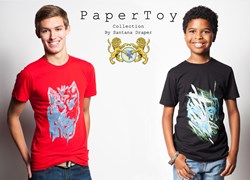 PaperToy's 11 year old founder, artist and designer brings his unique graphic t-shirt collection project to Kickstarter.
Sugarland, Texas (PRWEB) September 11, 2013
PaperToy's young founder is excited to launch his Kickstarter campaign to raise $13,700.00 for his art exhibit at Houston's largest fine art festival, the Bayou City Art Festival and participate as a new brand at Las Vegas' Magic Trade Show. The campaign began on September 9th and will run for 30 days. Kickstarter campaigns operate under an "All-or-Nothing" funding model so if PaperToy does not reach its goal at the end of 30 days then it will limit PaperToy's participation in the Bayou City Art Festival, the Magic Trade Show, and delay the completion of the next series. To follow the PaperToy project, be sure to find PaperToy on Twitter: @papertoyls, Instagram: @papertoyls, and Facebook: https://www.facebook.com/PaperToyClothing. Spread the word to your social media networks. Consider donating as little as $1 to help the PaperToy project come to life. If a supporter decides to donate more, the supporter will be one of the few to receive the PaperToy T-shirts exclusively designed for the PaperToy Kickstarter campaign. Please join the PaperToy movement! For more details visit: http://www.kickstarter.com/projects/papertoy/an-11-year-olds-journey-to-the-center-of-the-world
PaperToy Apparel is original limited edition wearable art for boys and men. The PaperToy hallmark is the use of high contrast colors and classic patterns fused onto PaperToy signature soft cotton tees. The artwork will not fade, crack or peel and each graphic T-shirt is a work of art! The original pieces of art are created by now 11 year old artist, Santana Draper who taught himself to sketch at the age of 4 inspired by an anime DVD cover. Santana is the first 11 year old artist to show at Houston's Bayou City Art Festival.
"I wanted to share my love of sketching and art with others by making it wearable. I hope my journey and my family's commitment to help me succeed will motivate others to explore their own raw talent. I've heard it said that 'youth is wasted on the young.' I disagree. As a young person I don't have to wait to cultivate my potential and enjoy the fruits of my labor. No young person does. So, I decided there had to be something I can do to change all this. This led to the creation of PaperToy."
After several years of fine tuning the samples, PaperToy created a new well-constructed premier T-shirt out of the softest cotton and using only the finest inks. PaperToy's premier T-shirts received great feedback from their limited release of the Series I collection. PaperToy incorporates 3 key elements in the construction of the premier T-shirt the feel, the garment longevity, and the vibrant ink. 1 design, 1 T-shirt, 1 color at a time, all hand finished. The PaperToy logo represents strength and humanity which embodies family, community, entrepreneurship, global oneness, and the cultivation of raw talent.
Contact: PaperToy LLC, Tel 866-789-5458, email: cs(at)papertoyclothing(dot)com
16107 Kensington Drive #266, SugarLand, Texas 77478, http://www.papertoyclothing.com
###