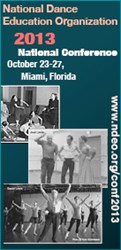 NDEO conferences enable dance teachers to learn, share expertise, network and develop lasting professional relationships.
Silver Spring, Maryland (PRWEB) September 10, 2013
Everyday, NDEO members teach a variety of dance genres and creative movement across diverse environments including private studios, pre-schools, high schools, colleges and community centers, to name a few. Each educator has his or her own way of passing on the living legacy of dance to their students. Dance educators pass on their craft by teaching, writing, collaborating and advocating. They teach their students the knowledge and skills required to create, perform and understand movement as an artistic expression. This conference will explore multiple teaching methods and pedagogies to ensure a successful teaching and learning experience for all involved, both the teacher and the student.
The NDEO 2013 National Conference in Miami will bring together over 650 dance educators and administrators from multiple environments including private studios, K-12 schools, colleges/universities, community centers and performing arts organizations. Attendees come from all over the US and several foreign countries to enjoy four days of movement workshops, panel discussions, and presentations of research, best practices, and model programs. There will also be major events designed to build community within the field including a visit to the Little Haiti Cultural Center for the "Daniel Lewis Miami Dance Sampler" featuring local dance companies, as well as two receptions and vendor exhibits.
NDEO's 2013 National Conference will provide professional development to dance teachers seeking to improve their teaching practice and exchange ideas with other teaching professionals from around the country and internationally. In Miami, attendees will have over 175 sessions to choose from with three to five sessions running concurrently in 30 minute and one hour blocks of time. There is something for everyone with several tracks including K-12, Private Sector, Early Childhood and Higher Education to name a few. NDEO also offers pre-conference and post-conference Intensive sessions on select topics to allow attendees to study a particular subject in more depth. Continuing Education Units (CEUs) and Certificate of Attendance (COAs) are available.
NDEO is an organization that is for the members by the members. NDEO National Conferences present a unique opportunity for dance educators and administrators to present research findings, share best practices or model dance programs, and teach movement workshops to peers in the field. Many months before conference NDEO holds an open Call for Proposals. Anyone is eligible to submit a proposal to present at conference, but if selected, all presenters will need to join NDEO before registering for conference. While it is too late to submit a proposal for the Miami conference, you can submit one for our 2014 conference which will be in Chicago. Stay tuned to our website for the Call for Proposal which is typically available in early November.
Interested in attending NDEO conference? You will need to become a member first. For membership information go to http://www.ndeo.org/membership.
To learn more about NDEO's 2013 National Conference in Miami and to register to attend please visit our website at http://www.ndeo.org/conf2013.
Founded in 1998, the National Dance Education Organization is a non-profit membership organization dedicated to advancing dance education centered in the arts. To that end, the organization provides its members, and the field at large, with advocacy, professional development, standards, leadership, support services, honor societies and research for dance teachers, artists, administrators and students in dance education across all genres. NDEO members can be found in PreK-12 schools, colleges and universities, dance studios, community centers and performing arts organizations.