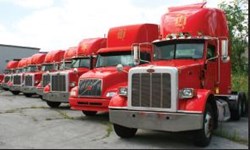 Chicago, Illinois (PRWEB) September 11, 2013
HYPERAMS will be conducting a live/webcast sale that includes (8) 2008 Peterbilt 365 Conventional Tractor, a 1999 Volvo Day Cab, (2) 2007 Peterbilt 335 Box Trucks, Monon and Strick Flatbed and Van Trailers, and more. There are also many Peterbilt, Volvo, and International trucks to be sold ideal for replacement parts.
Additional assets include, but are not limited to, wheel plates, mud flaps, transmissions, skid loader buckets, drive shafts, rear end housing, fifth wheel lock plates, titan trailer tires, air deflectors with front bumpers, air tanks, air hose reels, tail lights, and hoods. Other miscellaneous equipment will include storage trailers and metal cages with contents such as fire extinguishers, headlights and more.
The live/webcast auction will be held on Wednesday September 18, 2013 starting at 11:00AM CST at 9329 Bernice Ave Schiller Park, Illinois. Inspection will be on the morning of the sale from 8:30AM to 10:30AM or by appointment only. To schedule an appointment, call the HYPERAMS office at (847) 499-7049.
If you have any questions regarding the sale, registration or inspection, please visit hyperams.com or give us a call!
About HYPERAMS, LLC
HYPERAMS will dispose of and/or invest in your surplus assets- whether your company is healthy or distressed. HYPERAMS focuses on providing optimal recovery value for your surplus assets by purchasing and managing the resale, collection or redeployment of: inventory, machinery and equipment, commercial accounts receivable, retail store closings, and outlet center management and fixture sales.
Do you know what your assets are really worth? Our appraisal services will answer that question by providing a quick, accurate appraisal in a wide range of industries. Whether you need to know the value of a single piece of equipment or the total value of a plant's complete asset listing, HYPERAMS is here to help you.