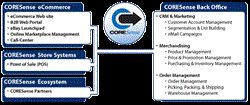 The CORESense solution allows us to better service all of our markets from a single website.
Saratoga Springs, NY (PRWEB) September 11, 2013
CORESense (http://www.coresense.com), the leading provider of all-in-one, cloud-based retail management & ecommerce software solutions, today announced that one of the nation's largest specialty medical supplies distributors, has selected the CORESense Ecommerce Enterprise Management Software Solution to improve the customer experience by making it easier for customers to do business with them.
This client is committed to offering customers the widest selection of high quality specialty medical supplies at the lowest possible prices. They needed a site where busy professionals could easily find and order critical supplies, check the status of those orders and learn about new products.
After a comprehensive review of eCommerce software solutions, the client was confident that CORESense's cloud-based platform could provide them with the convenience and functionality of leading consumer eCommerce websites, core B2B features and seamless integration with their existing ERP system.
"Providing an excellent customer experience plays a key role in attracting new customers and retaining existing ones," said their Sales Manager. "The CORESense solution allows us to better service all of our markets from a single website. Clients can log in to the site and quickly find products specific to their need at the right price. The advanced ordering features, purpose-built for us by CORESense, streamline the ordering process leading to an increase in average order-size and repeat business. The new website and tools provide us such an advantage in the marketplace that we requested CORESense not divulge our name."
In addition to the B2B eCommerce site, CORESense provided the client with online order entry and order management tools along with the real time data, reports and tools needed to optimize the purchasing, presentation, promotion, pricing and placement of their products.
The client chose CORESense over competitive offerings, because of CORESense's prior experience helping B2B organizations leverage the Internet to streamline their operations and retain and grow their customer base.
"This client needed a powerful eCommerce platform on which to grow their business," said Chris Martin, President of CORESense. "With CORESense they got a fully integrated, cloud-based eCommerce software solution with enterprise class performance and functionality, capable of supporting their mission and growth."
CORESense is the only cloud-based eCommerce management software solution that brings together ecommerce website, merchandising, order management & fulfillment, and CRM & marketing into a single, centrally managed solution and is rapidly becoming the preferred eCommerce platform for manufacturers, wholesalers and distributors.
For more information about CORESense's offerings, please visit http://www.coresense.com, email us at sales(at)coresense(dot)com or call toll free at (866) 229-2804.