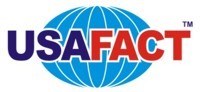 "They are going to be battling for the pinnacle of HALO awesomeness," said Joel Doherty, USAFact Director of Sales.
Denver, Colorado (PRWEB) September 11, 2013
USAFact, a leading nationwide provider of background investigation services for more than 35 years, will bring the popular video game HALO to life at its interactive booth at the 2013 Colorado Technology Association APEX Tech Summit.
"We wanted to come up with an idea that really makes our booth at the ultimate Colorado technology summit a destination for attendees," said USAFact Chief Executive Officer Matthew Davidson. "I truly believe our marketing team went above and beyond on this one."
USAFact will take the competitiveness of HALO to a new level at the tech conference as they host a "HALO Show Down" challenge. Attendees will battle for the first place grand prize, a brand new Xbox 360, as well as second and third place trophies not to mention special bragging rights.
"They are going to be battling for the pinnacle of HALO awesomeness," said Joel Doherty, USAFact Director of Sales. "We'll be running a modified version of HALO where players get to battle against enemy players for the highest score. Attendees can play as many times as they'd like to try and win. Reps will be at the Hyatt Regency Convention Center and welcome attendees to take part in the challenge. We'll also have USAFact veteran's acting as proxy players so inexperienced users will have a fighting chance to win the Xbox."
Along with the exhibit hall, the event will host the 13th annual APEX awards saluting the creativity, innovation and ingenuity of the Colorado technology community. Guest speakers at the premier conference will include Esri President Jack Dangermond; TeleSoft Partners Chief Believer Arjun Gupta; Photobucket Chief Executive Officer Tom Munro and Colorado Secretary of State Scott Gessler.
The 2013 Colorado Technology Association APEX Tech Summit takes place September 10 and 11 at the Hyatt Regency Denver. For more information about the event, including information about checking out the USAFact booth, please visit the conference website at http://www.coloradotechnology.org/page/Apex
About USAFact, Inc.
Successfully operating in the background investigation field for over 35 years, USAFact has been recognized as the hiring solution provider which delivers the most accurate, up to date, and thorough background screens in the industry. As a leading online pre-employment screening service, USAFact combines the latest Internet technologies with the expertise of an experienced professional staff to deliver a proven resource to thousands of clients, processing thousands of reports daily. Offering a variety of screening packages for businesses of any size, from the small non-profit to Fortune 500, USAFact provides services custom-tailored to their individual needs.
For additional information on USAFact's products and services please visit http://www.usafact.com, or call (800) 547-0263.