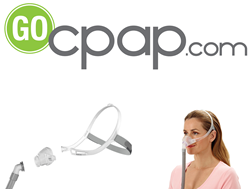 Cutting Edge Technology .... Unsurpassed Comfort
Charlotte, NC (PRWEB) September 10, 2013
GoCPAP.com was born offering patients round-the-clock access to the best in care and service for the treatment of Obstructive Sleep Apnea (OSA) and other respiratory diseases.
Understanding that Obstructive Sleep Apnea is a disease that can be difficult to manage and even life-threatening; GoCPAP.com knows that OSA patients deserve the best care possible and their team is here to provide it with the latest innovations in CPAP masks. These new additions feature not only cutting-edge technology but also unsurpassed comfort. As always, patients can be assured of the exceptional quality and best pricing that they have come to expect from GoCPAP.com.
Among the new offerings are the ResMed Swift FX Nano with its soft adjustable easy fit, smaller size and superior seal. The Nano offers the best of nasal pillow mask styling with the seal and performance of a nasal mask. The Nano provides tube free movement for comfort and whisper quiet venting for better rest all in a compact and comfortable mask. Alongside the Nano is the ResMed Swift FX Nano for Her designed specifically for women.
The next new offering is the Philips Respironics Amara Gel Full Face Mask delivering a smaller and lighter frame that performs with the same high level function of its larger counterparts. The Amara offers patients a more comfortable fit with quiet exhalation ports and an easy to use clip on and off style.
Finally, GoCPAP.com brings patients the SleepWeaver Anew Soft Cloth Full Face Mask with non-allergenic, all cloth comfort that is specifically designed for those who breath through their mouths. The Anew offers loose fit comfort with a secure seal and promises to leave no strap marks due to its easy fit styling.
Order Your New CPAP Mask at GoCPAP.com today.
Visit GoCPAP.com and speak to a member of the caring and helpful staff through Live Chat, Toll-Free or e-mail to discuss all of your CPAP equipment needs. Our friendly expert staff is always ready to provide you with exceptional customer care assistance at your convenience.
About GoCPAP.com
Based in beautiful Charlotte, NC, GoCPAP.com provides hometown service and the highest quality CPAP supplies delivered straight to customers via the internet. GoCPAP.com is committed to the patients they serve. You can count on the expert team at GoCPAP.com to deliver unparalleled customer service with the best quality and affordably priced CPAP devices, masks, and accessories across the country, just as they have for years.