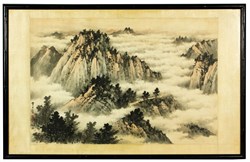 Beverly, Massachusetts (PRWEB) September 10, 2013
Kaminski Auctions will offer for sale an exceptional series of painting from the collection of Zhang Guohe in their fall Fine Asian Art and Antiques Auction, on Saturday, September 21st, 2013. The series of twelve paintings are among the most highly valued items in the auction, and all carry dedications to the collector himself, providing reliable provenance for each painting.
Zhang Guohe was a prominent figure in twentieth century Chinese history. A former Colonel of Chiang Kai-shek's army, he attended the Japanese surrender in Hunan Zhijian, in August 1945. After completing a law degree at the University of Chicago, he joined the United Nations in 1949. Throughout the 1950s, 1960s and 1970s, Mr. Zhang would regularly return to visit China. On one of his trips he met with Soong Qing Ling, the wife of Sun Yat-Sen, first president and founding father of the Republic of China.
During his lifetime Mr. Zhang was an avid collector of many prominent and influential Chinese artists. His collection includes three works from Huang Junbi, an artist known for his significant influence on the development of Taiwanese ink painting. The three works by Junbi on offer at Kaminski 's sale capture the artist's signature style and subject matter. Lot 7115 depicts a waterfall and is valued at $30,000 to $50,000. There are also two of his landscape scenes on offer. In Chinese art circles, Junbi is held in the same esteem as artists like Xu Beihong and Zhang Daqian.
Also included in the collection are works from Li Kuchan, well known as Qi Baishi's most prominent student, and renowned for his freehand drawings of flowers and birds. Li Kuchan's painting of two quails highlights his best known xieyi, or "sketching the idea," style. The watercolor painting of the birds, which symbolize a double wish for peace, is estimated at $30,000 to $50,000.
Mr. Zhang's impressive collection additionally includes a remarkable painting by Dong Shou Ping. Although not as prolific as other artists within the collection, Dong Shou Ping nevertheless made a significant contribution to the development of Chinese art. As a painter, he is most well known for his paintings of bamboo and views of Huang Shan. Lot 7111 is one example of his insightful studies of bamboo. The piece is valued at $30,000 to $50,000.
More information on these paintings and other important works in Kaminski's upcoming Fine Asian Art and Antiques Auction can be found at http://www.kaminskiauctions.com. An online catalog of all lots in the sale will be available September 6th.
Preview for the sale will take place on Wednesday, September 18, from 10:00am to 5:00pm, Thursday, September 19, from 10:00am to 5:00pm, Friday, September 20th, from 10:00am to 8:00pm, and on the day of sale, Saturday, September 21, beginning at 8:00am. The sale begins at 10:00amEST at the Kaminski Auction Gallery at 117 Elliot Street, Beverly, Ma.