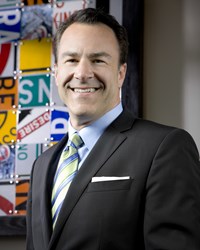 Stray dogs can pose a real danger to the people they encounter. While many are former pets, most are also mistrustful of people and may attack if approached or cornered.
Detroit, MI (PRWEB) September 09, 2013
There is no doubt that stray dogs are a fact of life in the City of Detroit. Recent news reports suggest that the number of strays roaming Detroit's streets could be into the tens of thousands, though as yet there is no definitive number available. The issue has had so much media attention in the last year that the City of Detroit has approved a two-day survey of strays in the city, to be conducted by trained volunteers this September.
Dog Bite Laywer Jason Waechter supports this initiative. "Stray dogs can pose a real danger to the people they encounter. While many are former pets, most are also mistrustful of people and may attack if approached or cornered." He adds, "Dog bite injuries can be very serious, some requiring extensive medical intervention."
An article released on Bloomburg.com on August 21, 2013 said that as many as 50,000 stray dogs roam the streets and vacant houses of Detroit. Animal control officers from the Detroit Police Department have found packs of dogs living in abandoned houses and swimming in flooded basements.
The article states, dogs are being abandoned and left to fend for themselves as people move away from the city or can no longer afford to take care of their pets. Stray dogs have killed pets, bitten mail carriers and are crowding animal shelters where 70 percent of animals are being euthanized.
"With these large open expanses with vacant homes, it's as if you designed a situation that causes dog problems," said Harry Ward, head of animal control.
However, other animal groups disagree with Bloomberg's stray dog estimate. According to an article in the Detroit FreePress on August 25, 2013, the World Animal Awareness Society is organizing a canine survey to spread across the city on September 21 and 22.
With the help of volunteers, the city will be divided into 41 regions where there will be 50 predetermined points where volunteers will look for dogs and count them to create a more realistic number.
One volunteer said "No matter whether it's 500 or 50,000, that's a problem."
Dog Bite Damages are Owner's Responsibility
Here in Michigan, the dog owner is liable for all damages as a result of a dog bite, as long as the victim is on public property or lawfully on private property (MCL 287.351). But what happens when the dog is a stray?
"It often seems unlikely you'll find the owner of a 'stray' dog when a dog bite occurs," says Waechter. "But when you start asking around, people are often more than happy to point out where they've seen the dog or who they've seen it with, especially if the dog has been menacing towards them or disruptive in the neighborhood."
Waechter provides free dog-bite information on his website,http://www.dogbitelawyersusa.com, including breed-specific bite statistics, and descriptions of different dog-bite injuries. "Many people don't realize that there are different types of dog attacks that qualify as actionable dog bites under the law," he says. Waechter not only offers free consultation services for dog bite victims in Michigan, but has also vetted and affiliated himself with the top dog bite attorneys across the country, to ensure victims can get the help they need no matter where in the US they live.
Millions of Dog Bites Occur Each Year
In a dog-bite Fact Sheet, the American Humane Society (AHS) advises people never to approach an unknown dog, even if that dog is chained or behind a fence. Waechter agrees, but believes that it is the responsibility of the owner, and not the victim, to prevent dog bites in the first place.
"According to the AHS, of the 4.7 million people who are bitten by dogs each year, more than 800,000 of them require medical care. That is a huge number of unnecessary injuries," he says.
"The vast majority of the time, pet owners should be held accountable for the actions of their pets. It shouldn't be up to the victim to have to deal with the stress or the cost of a dog-bite injury."
####
For more information about dog bite laws where you live, or to contact Attorney Jason Waechter who has spent two decades cementing his reputation for results. Jason and his team of vetted affiliate lawyers in every state specialize in Dog Bite & Dog Attack cases. If you or a loved one has been the victim of a Dog Bite please call us today at 1-800-708-LIFE (5433)