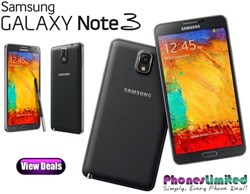 This winning deal includes unlimited minutes of calls, unlimited text messages and a good 1GB of data.
Ipswich, Suffolk (PRWEB) September 11, 2013
The new Samsung Galaxy Note 3 now has contract deals available in the UK; thanks to a number of retail partners of Phones Limited releasing competitive pay monthly offers on Vodafone, T-Mobile, O2, Orange and the EE 4G networks.
The cheapest of these contract deals to offer a free Samsung Galaxy Note 3 phone is currently at £42 line rental per month on O2 whilst the lowest line rental is available on Orange at £20.50 per month.
Phones Limited use data from their retail partners to accurately display the lowest priced deal based on the overall customer spend over the length of the contract, calculating the total line rental price of the tariff plus any upfront phone costs or minus any cash-back incentives.
Once calculated, the cheapest of these recently released Samsung Galaxy Note 3 deals based on the above factors is on the O2 On & On tariff at £37 per month which asks for a £39.99 upfront price tag for the phone.
This winning deal includes unlimited minutes of calls, unlimited text messages and a good 1GB of data to use every month plus unlimited O2 Wi-Fi, O2 Prority Moments and 2 months of free O2 music tracks as an incentive.
As far as incentives to order the Samsung Galaxy Note 3, the best is offered by the Phones4U Group who are offering a free case and wireless speaker plus the chance to save £100 on the new Samsung Galaxy Gear smart watch that was launched alongside the Galaxy Note 3.
These deals are available now on the Phones Limited price comparison website here.
Operations manager Andrew Ramsey says that he is "surprised at the speed in which our retail partners have rolled out their packages for the new Note 3, considering the device was only launched just last week" and goes on to say that the phone is "a very exciting addition to the Samsung Galaxy range which is by far the most advanced release we've seen from the manufacturer this year."
About Phones Limited
Established in 1999, a price comparison website for mobile phone deals and prices across contract, pay-as-you-go and unlocked (handset only) options to buy.
Phones Limited is partnered with over 20 of the leading mobile phones retailers and networks generating a choice of over 700,000 consumer deals which are compared twice daily.
About Samsung Galaxy Note 3
The new Samsung Galaxy Note 3 was officially announced last Wednesday, 4th September, as an upgrade to the popular Galaxy Note 2, this latest incarnation of Samsung's 'Phablet' smart phone packs even more technology with upgraded specifications and a larger display squeezed into a smaller, more pocket friendly footprint than the previous Note 2.
The display has been expanded from the 5.5 inches of the previous Note 2 up to 5.7 inches and offers a full HD resolution of 1080 x 1920 pixels with a pixel density of 386ppi; this Super AMOLED display screen can be used with an enhanced version of the Samsung S-Pen stylus which now offers 'Air Command' features the user can hover over the screen for further options.
The phone is powered by a fast, quad-core 2.3GHz processor with 3GB of RAM plus the Android 2.3 Jelly Bean software and a large 3200mAh battery which is all packed into a slim design of 151.2 x 79.2 x 8.3 mm weighing 168g.