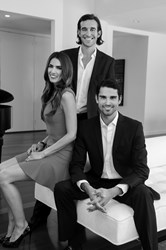 The price per square foot of homes in Los Angeles has increased by 32% compared to the same period last year.
Beverly Hills, CA (PRWEB) September 10, 2013
There's no debating that the real estate market is on fire in Los Angeles, nowhere more so apparent than the famous communities Beverly Hills, Bel Air and Brentwood. Over the last few months Beverly Hills housing inventory has been depleted to record lows with an array of buyers jumping for an opportunity at quality single-family homes. Properties such as 1635 Ferrari Drive in Beverly Hills which is represented by Dustin Cumming and Danelle Lavin of Hilton & Hyland, are exactly what buyers have been waiting for.
Beverly Hills has long been the economic bellwether for the entire country, not just Los Angeles County, when gauging the strength of real estate investment, development and the general health of the market. According to Zillow.com, the price per square foot of homes in Los Angeles has increased by 32 percent compared to the same period last year, Los Angeles home prices also increased by 37.5 percent. The median home list price for Beverly Hills is currently $2,594,800 and expected to rise. Real Estate experts are calling for the Los Angles' real estate market to improve by 5.9 percent in 2013.
With strengthening markets like Beverly Hills has seen in recent months, it's no wonder that single family investment properties are in short supply. The property located at 1635 Ferrari Drive in Beverly Hills is situated on a quiet cul-de-sac on over a ½ acre lot in Beverly Hills. This 4 bedroom & 2.5 bath home features a great master suite with a classic fireplace and large attached decks. The bright home features vaulted ceilings, stone fireplace and custom wood finishes throughout, a sprawling second story wrap around deck with canyon, ocean and city light views. Surrounded by mature trees the landscaped grounds and patio are perfect for entertaining, capturing the best of Southern California's indoor-outdoor lifestyle and enjoying the serene tranquility of your own private retreat. Located within the Warner School District this property is the perfect choice for a light update or a full remodel. All of these factors are the fundamentals for investment security, quality of life and limitless demand.
Beverly Hills has long been home to Los Angeles' elite, quality properties like Ferrari are no different with it's immediate neighborhood being home to such individuals as Trent Reznor from Nine Inch Nails, Joe Walsh of The Eagles fame and legendary rocker Alice Cooper.
For additional information, please visit http://www.CummingLavin.com