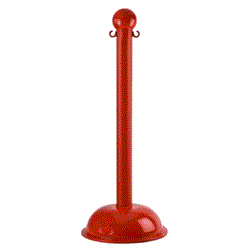 Stanchions are such versatile products the applications for them are endless. - Cliff Lowe, the Managing Director for InSite Solutions.
Wake Forest, NC (PRWEB) September 17, 2013
Stop-painting.com is excited about the addition of stanchions to their line of safety solution products. These stanchions are available in light, medium, and heavy duty options. The light and heavy duty stanchions reach 41 inches in height, while the medium option is 40 inches high. Plastic safety chains are also available to be used in conjunction with each stanchion. The plastic safety chains come as 2 inch chains and are available in 50 feet or 100 feet lengths. These stanchions and chains can be purchased separately or as a kit. If purchased as a kit, the light and medium kits come with 6 stanchions and 50 feet of chain, and the heavy duty kits come with 4 stanchions and 30 feet of chain.
Each stanchion comes with a ball top and a large base and come in a variety of colors. Bases can be attached to the floor if desired, or they can be stabilized by adding sand or gravel to the base. Each stanchion comes equipped with C-Hooks on each side to allow chains to be hung with ease.
The entire line of stanchions and chains are made of high density polyethylene that contains UV inhibitors and are made in the USA. By being made of polyethylene the stanchions are rustproof and eco-friendly by being completely recyclable.Furthermore, the UV inhibitors allow the stanchions to be fade resistant so they will never need to be touched up or painted.
"Stanchions are such versatile products the applications for them are endless," says Cliff Lowe, the Managing Director for InSite Solutions.
One main purpose for stanchions is to act as crowd control barriers and give direction. Stanchions can be used to block specific areas off so people cannot enter. They can also be used to direct pathways for crowds in areas such as schools, malls, parking lots, theaters, hotels, sporting events, camps, and various other places.
Stanchions can also be used in manufacturing facilities as well. These stanchions are available in white, yellow, black, red, blue, orange, and green which allows employers to comply with OSHA Regulation 1910.144. This regulation requires areas with flammable liquids or areas with potentially hazardous machinery must be marked with the color red. Whereas areas with physical hazards of stumbling, falling, and tripping must be marked with the color yellow. Using stanchions in these areas allows for OSHA regulations to be followed and helps establish a generally safe work environment.
Please visit Stop-Painting.com for complete product information or call 1-866-284-1521
Stop-Painting.com is apart of InSite Solutions, the manufacturer of Superior Mark tape.
InSite specializes in floor marking solutions that increase safety, organization, and efficiency in the workplace. They offer Superior Mark and a variety of other traffic control solutions for sale on their ecommerce website, http://stop-painting.com.