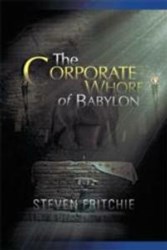 Los Angeles, CA (PRWEB) September 11, 2013
Would Whitey Bulger have been caught sooner if Detective James Gladd was on the case?
In a plot full of twists and turns, new mystery novel The Corporate Whore of Babylon, reveals the corrupt deeds of the illegal transactions of a cult. Following Detective James Gladd as he investigates a tycoon's murder and discovers more than he expects, readers of all ages will enjoy the race to reveal evil. With the help of a fellow detective and an eccentric tech geek, Gladd must stop a ruthless cult from taking over the world.
A commentary of America's current economic and social conditions, The Corporate Whore of Babylon depicts the fraud within the American system.
"With a background in the Army and a profession in security, I saw many things most citizens would not believe," says Fritchie. "This book aims to reveal the deceptions the public is never exposed to."
Suited for fiction fans as well as those with an interest in murder mystery, social issues and conspiracy theories, The Corporate Whore of Babylon will leave the reader questioning the current state of America.
The Corporate Whore of Babylon
By Steven Fritchie
ISBN: 978-1-4771-5883-8
Pages: 346
Available at http://www.xlibris.com, http://www.amazon.com, and http://www.barnesandnoble.com
About the author
Steven Fritchie was a military translator, a telemarketer and a security guard. He currently lives in Los Angeles.