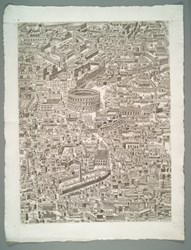 The 2013 Year of Italian Culture is an important opportunity for Italy to continue to build a stronger cultural relationship with the United States on which we can expand for years to come
Atlanta, GA (PRWEB) September 11, 2013
The Italian Ministry of Foreign Affairs announced 2013 as the "Year of Italian Culture" in the United States. Atlanta arts institutions have joined in the celebration and will host events throughout the Fall that highlight everything from Italian music to Renaissance and Baroque images of Rome to Italy's best exports, wine and design. Harmonie Universelle, The Atlanta Opera, Fernbank Museum of Natural History, Michael C. Carlos Museum, and Museum of Design Atlanta offer visitors a chance to experience Italy's rich culture and history.
"The 2013 Year of Italian Culture is an important opportunity for Italy to continue to build a stronger cultural relationship with the United States on which we can expand for years to come," says Angela Della Costanza Turner, Honorary Consul General of Italy. "Italy has a wealth of cultural resources to offer and seeks to become a primary cultural ally with the United States and to maintain ongoing cultural exchange."
Celebrate Italy with the following discounts:
-2 for 1 admission to the MODA "Barrique" exhibition with proof of purchase at the Carlos Museum or Fernbank
-2 for 1 admission to the Carlos Museum with proof of purchase at MODA or Fernbank
-$2 off admission at the Fernbank with proof of purchase at the Carlos Museum
-Save 20% on tickets to the Tuesday or Friday performance of Tosca by entering the code 14ROME at atlantaopera.org
Atlanta Events Celebrating Italian Culture include:
The Atlanta Opera
404-881-8885
Tosca by Giacomo Puccini
Oct. 5 through 13 at the Cobb Energy Centre
The 2013 Atlanta Opera Ball: Puccini's Palazzo
Saturday, October 26, 2013 at the St. Regis Atlanta in Buckhead
Fernbank Museum of Natural History
404-929-6300
Marco Polo: Man & Myth
Sept. 28 through Jan. 5, 2014
Harmonie Universelle
404-627-9077
Songs of the Three Ladies
Sept. 18 at 7 p.m. in the chapel of Agnes Scott College
Michael C. Carlos Museum of Emory University
Antichità, Teatro, Magnificenza: Renaissance and Baroque Images of Rome
August 24 through Nov. 17
Conserving the Memory: The Fratelli Alinari Photographs of Rome
August 31 through Jan. 12, 2014
Works on Paper Gallery
20th Annual Bacchanal: Rome Around the World
Saturday, November 2, 2013
Museum of Design Atlanta (MODA)
404-979-6455
Barrique: Wine, Design, and Social Change
Sept. 15 through Oct. 15
Opening Party for Barrique
September 14, 7-10pm
MODA: Festa Italiana
Oct. 5 from 7 to 10 p.m.
Celebrate Italy with the following discounts:
-2 for 1 admission to the MODA Barrique exhibition with proof of purchase at the Carlos Museum or Fernbank
-2 for 1 admission to the Carlos Museum with proof of purchase at MODA or Fernbank
-$2 off admission at the Fernbank with proof of purchase at the Carlos Museum
-Save 20% on tickets to the Tuesday or Friday performance of Tosca by entering the code 14ROME at atlantaopera.org
About the Michael C. Carlos Museum
The Michael C. Carlos Museum of Emory University collects, preserves, exhibits, and interprets art and artifacts from antiquity to the present in order to provide unique opportunities for education and enrichment in the community, and to promote interdisciplinary teaching and research at Emory University. The Carlos Museum is one of the Southeast's premier museums with collections of art from Greece, Rome, Egypt, Near East, Nubia, the Americas, Africa, and Asia, as well as a collection of works on paper from the Renaissance to the present. For location and admission information, visit carlos.emory.edu/visit/hours-admission