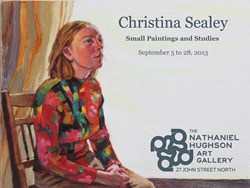 Hamilton, ON (PRWEB) September 17, 2013
The Nathaniel Hughson Gallery is proud to host Small Paintings and Studies by Christina Sealey. This stunning exhibition consists of a collection small painted portraits and small drawn studies. The exhibition will be on display from September 5 to 28, with the opening reception taking place on Sunday, September 8, from 2pm to 5 pm.
Sealey's current work in the field of painting and drawing involves representations of the human figure in different environments. The paintings are concerned with bodily empathy – spatial relationships sensed with and through the body – with the light and surrounding objects used to reflect the intimate connections between people and the places they inhabit.
This will be the first solo show for the internationally acclaimed artist since 2010. Sealey's work has appeared at the Royal Overseas House in London, England, Timespan Gallery in Helmsdale, Scotland and the Art Gallery of Hamilton. Christina studied art at McMaster University and the Dundas Valley School of Art before going on to earn her MFA from the Edinburgh College of Art. She presently lives and works in Hamilton.
This exhibition is a must see.
Opening Reception – Artist in Attendance
Sunday, September 8, 2013 2-5pm
Visit us during Supercrawl 2013, September 13 & 14.
Gallery Hours:
Wednesday: 12-5
Thursday: 12-7
Friday: 12-8
Saturday: 12-5
Sunday to Tuesday by appointment.
About the Nathaniel Hughson Gallery:
The Nathaniel Hughson Art Gallery on John Street North opened its doors in September 2012. The commercial gallery is dedicated to representing contemporary Ontario artists in their early and mid careers and is a destination for anyone looking for something unique to add to their collection.
The Nathaniel Hughson Gallery is located at:
27 John Street North
Hamilton, Ontario, L8R 1H1
Phone 905.923.1192
Email info(at)nathanielhughsongallery(dot)com