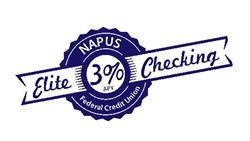 Alexandria, VA (PRWEB) September 10, 2013
In an environment where finding a decent return on your money is nearly impossible, NAPUS Federal Credit Union has launched its new Elite Checking account that pays a dividend rate of 3.00% Annual Percentage Yield (APY).*
NAPUS FCU, located in Alexandria, VA, has always offered above market savings rates and below market loan rates, and has been specializing in remote service technology since opening its doors in 1970. As part of the already amazing product suite that includes both savings and loan products, it has now launched a high-yield checking account that any of its members can take advantage of.
One of the most attractive features of the new product is that there are NO minimum balance requirements. Where many institutions have a minimum balance requirement to earn any dividend or interest rate, the Elite checking does not require any minimum balance to earn the outstanding yield. That is not to say, however, the account comes with no restrictions; in order to obtain the yield, members must meet the following, easy to achieve, requirements:

Members must use their debit card at least 15 times per month.
Members must enroll in electronic statements.
Members must have monthly direct deposits that total at least $1,000
Members may have only one Elite Checking account.
In addition to the requirements above, the Elite checking account is designed for those members who do not (or cannot) keep high balances in their accounts, so the high dividend rate is paid on balances up to $15,000. Any balance exceeding $15,000 will earn the Credit Union's standard checking rate (currently at 0.10% APY).
NAPUS FCU's Elite Checking is just one of the many benefits of becoming a member. The Credit Union offers other savings products including regular checking, savings, share certificates, money market, and IRA accounts. If you are searching for great loan rates, they offer signature (unsecured) loans, auto/boat/motorcycle loans, credit cards (with non-variable rates), mortgage and home equity loans, educational loans, and a full array of business loans for the entrepreneur. With only one location nationwide, NAPUS FCU specializes in remote delivery and offers electronic services like debit/check cards, internet banking, free online bill pay, mobile website, and a mobile app. The next new product to be coming soon is their Remote Deposit Capture where members can take a picture of a check and have it credited to their account.
It is easy to see that being a member of NAPUS Federal Credit Union can be a significant financial benefit, and joining has never been easier. For a full list of who is eligible for membership, visit our membership page at napusfcu.org/join. In addition to the groups listed on our website, membership is also extended to those members of the American Consumer Council (the ACC). As a consumer, you may be eligible to join NAPUS FCU through the ACC; please visit the ACC's website at http://www.americanconsumercouncil.org for more information on membership eligibility. As an extra bonus, NAPUS FCU will pay the dues for members to become part of the ACC!
To learn more about NAPUS Federal Credit Union, its products, services, membership eligibility, and more, visit their website at http://www.napusfcu.org or contact them at (800) 336-0284.
*Rates accurate as of August 31, 2013 and can change without notice. Fees or other charges could reduce the earnings on your account. APY = Annual Percentage Yield
Federally insured by the NCUA