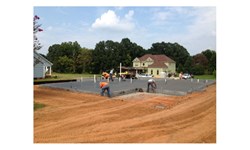 "It's so important to give back to your community, especially for the men and women who so honorably served our country."
(PRWEB) September 11, 2013
Operation Finally Home, a non-partisan non-profit organization, provides custom-built, mortgage free homes for returning war heroes. Founded in 2005, the organization has ongoing and completed projects in 17 states with a strong presence in the southeast. Classica Homes joined the effort after learning about Operation Finally Home at this year's International Builders Show.
With a project to oversee in Charlotte, Classica reached out to Charlotte vendors and Doggett Concrete Construction President Doug Doggett immediately offered both Doggett Concrete and subsidiary, Gravel & Materials Placement.
"It's so important to give back to your community, especially for the men and women who so honorably served our country," Doggett said. "After learning more about the Wiley family and Sgt. Wiley's 17 years in the service, I felt privileged to provide my services.
"Being on the job site, meeting the family, and participating in this incredible opportunity has been so rewarding. Through our involvement, I hope to be a stepping stone in Operation Finally Home attaining its goal to become a nationally recognized organization."
The Charlotte project for Sgt. Ronny Wiley and his family began in early August and framing of the home began this week.
To follow the building process or find out how to get involved with this project, visit http://www.classicahomes.com/aboutus/operation-finally-home.asp.
To learn more about Operation Finally Home, check out http://www.operationfinallyhome.org/.
Doggett Concrete Construction has been serving North and South Carolina for nearly 50 years. Doggett Concrete specializes in commercial and residential concrete construction. For more information about Doggett Concrete and their services, please visit http://www.doggettconcrete.com.