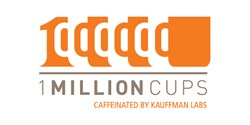 Kansas City, MO (PRWEB) September 10, 2013
While perhaps best known for sunny days and ample opportunities for family fun, two cities on opposite coasts are ready to spur similar energy around their startup communities. 1 Million Cups, a weekly program to educate, engage and connect entrepreneurs, launches tomorrow, Sept. 11, in Orlando, Fla., and San Diego.
With the addition of these two cities, a total of 15 U.S. locations now host the weekly gathering that is building startup communities over cups of coffee and conversation across the country.
1 Million Cups began in April 2012 in Kansas City, the hometown of its founding organization, Kauffman Labs for Enterprise Creation at the Ewing Marion Kauffman Foundation. The two newest cities put 1 Million Cups three-fourths of the way to its goal of having a presence in 20 cities by the end of 2013. At least one international city also is expected to be on the map by year's end.
The program's model is consistent in each location. Each Wednesday morning at 9 a.m., two early-stage startups present their companies to an audience of local mentors, advisers and other entrepreneurs. Each founder presents for six minutes and then fields audience questions for 20 minutes. The program is run by local entrepreneurs who serve as community organizers.
In Orlando, entrepreneurs, innovators, funders and interested community members will meet at 9 a.m. each Wednesday at Starter Studio in the GAI Building, 618 E. South St. downtown. Presenting the first week will be G.I. Money, a startup that provides high-level educational media for members of the military and their families.
In San Diego, 1 Million Cups will convene downtown at Co-Merge Workplace, 330 A St. Suite 102. First-week presenters there will be FITzee Foods, which delivers healthy meals and snacks, and The 1:1 Movement, a nonprofit that teaches K-12 students about environmental consumption issues.
Nate Olson, a Kauffman Foundation associate and leader of 1 Million Cups, said launching 1 Million Cups in Orlando and San Diego on the same day was a strategic decision. "While best known for their tourism trades, these cities also have strong presence in the tech, bioscience and military sectors," Olson said. "They have much to offer entrepreneurs working to launch and grow their businesses. We are confident the community organizers in Orlando and San Diego will benefit greatly by collaborating with one another, as well as with leaders throughout the 1 Million Cups national network."
Community organizers Shea Glenny in Orlando and Jerry Hall in San Diego are enthused about the program's potential.
"There is a dedicated, passionate and generous group of innovators who have already formed the cornerstone of a solid entrepreneurial ecosystem in Orlando," said Glenny, who became familiar with 1 Million Cups while living in Kansas City. "I believe 1 Million Cups can organically connect latent talent, resources and leaders from every corner of Orlando."
Hall expressed similar hopes for San Diego's launch. "We are excited for 1 Million Cups to become another element of San Diego's startup fabric," he said. "We look forward to learning more about and helping our fellow startup pioneers."
In addition to Orlando, San Diego and Kansas City, the other cities offering 1 Million Cups locally are Des Moines, Iowa; Houston; St. Louis; Cedar Rapids/Iowa City, Iowa; Reno, Nev.; Chattanooga, Tenn.; Denver; Chapel Hill/Research Triangle Park, N.C.; Georgetown, Del.; Lawrence, Kan.; Columbia, Mo.; and Loudon County, Va.
View the national website at http://www.1millioncups.com. Access the Orlando and San Diego microsites at http://orlando.sites.1millioncups.com and http://sandiego.sites.1millioncups.com. Follow the conversation at @1millioncups on Twitter.
About the Ewing Marion Kauffman Foundation
The Ewing Marion Kauffman Foundation is a private, nonpartisan foundation that aims to foster economic independence by advancing educational achievement and entrepreneurial success. Founded by late entrepreneur and philanthropist Ewing Marion Kauffman, the Foundation is based in Kansas City, Mo., and has approximately $2 billion in assets. For more information, visit kauffman.org, and follow the Foundation on twitter.com/kauffmanfdn and facebook.com/kauffmanfdn.