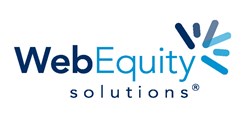 Omaha, Nebraska (PRWEB) September 10, 2013
WebEquity Solutions®, showcased its commitment to Omaha by hosting a ribbon cutting ceremony to celebrate the move to its new corporate headquarters located in the newly constructed Westroads Office Park located at 1010 N. 102nd Street in Omaha, Nebraska. The event on September 10 at 1:30 pm (CT) was attended by WebEquity employees; Governor Dave Heineman; Jean Stothert, mayor of Omaha; David G. Brown, president and CEO of the Greater Omaha Chamber; members of the local press; and business friends and family.
The WebEquity cloud-based software is the fastest growing commercial lending platform in the country. It offers lending institutions loan origination, credit analysis and stress testing capabilities. In turn, these capabilities help community banks and credit unions speed credit decisions and manage risk for business related loans including small business, commercial and industrial (C&I), commercial real estate (CRE), construction and agricultural credits.
WebEquity Solutions originally relocated its headquarters to downtown Omaha in 2008 when the company (formerly known as ECI and located in Glenwood, Iowa) was acquired by the private equity firm Rational Equity LLC. The Greater Omaha Chamber was instrumental in demonstrating the significant economic and people resources the state could provide to a technology company like WebEquity. At that time, the company had 375 clients and just 4 of its employees were Nebraska residents.
Today, WebEquity has doubled its office space to support its continued growth. With a client base of more than 800 community financial institutions across the U.S., Canada and Australia, the company now employs 44 Nebraska residents. Based on economic impact analysis performed by the Chamber, WebEquity's average employee wage is three times greater than the average wage in Nebraska and activities related to WebEquity's operations adds approximately $13 million to the state's economy annually.
"Moving the company to Omaha in 2008 was one of the best decisions we have made for the business and it has definitely paid off," said Doug McGregor, CEO of WebEquity Solutions. "As a technology provider, we were able to take advantage of the tax benefits provided by the Nebraska Advantage Act and we have also found a rich source of high-tech talent from the area universities. Over the last five years, since the acquisition, we've grown our recurring revenues by 400 percent and more than doubled our client base."
"The Nebraska Advantage tax incentive program has been very successful with more than 400 companies deciding to expand or locate in Nebraska," said Governor Dave Heineman. "Today we celebrate WebEquity's expansion. They have blazed the technology trail and are expected to add approximately $13 million to Nebraska's economy each year. Their dedication and commitment to our state is one reason why Nebraska is a great place to live, to work and to raise a family."
This year, WebEquity was recognized as a 2013 Big O! Excellence Awards Innovator of the Year Finalist by the Chamber. The company also supports events that drive added commerce for the community sponsoring events including the College World Series, Cox Classic, U.S. Senior Open, the Corporate Cup, and local charities such as Boys Town.
"Technology companies find a business culture in Omaha that supports growth, employee recruitment and community involvement. WebEquity Solutions has built a strong successful business here," said Omaha Mayor Jean Stothert. "The company contributes to our local economy and invests in the special events and philanthropic organizations that make Omaha attractive to new and expanding businesses."
"We are thrilled to see the amount of growth WebEquity Solutions has experienced since their decision to relocate in Omaha four years ago. Their success has created and continues to create high quality jobs which add to the talent of our workforce," said David G. Brown, president and CEO of the Chamber.
For more information please contact Mallory Eberle at 800.264.0787 ext. 3 or mallory.eberle(at)webequitysolutions(dot)com.
About WebEquity Solutions LLC
WebEquity® Solutions is the proven leader in on-demand lending software. More than 800 financial institutions and 20,000 lending professionals use WebEquity to automate and streamline their lending process and reduce operational costs, while making more uniform and profitable credit decisions. The company offers financial institutions a distinct advantage with a single solution that works for all loan types, an on-demand model that provides centralized, anywhere access, and the flexibility to configure the system so it fits their lending practices. WebEquity serves institutions in the U.S., Canada and Australia. WebEquity is the Preferred Service Provider of the Independent Community Bankers of America (ICBA) for commercial/Ag lending, stress testing and ALLL software. For more information call 800.264.0787 or visit http://www.webequitysolutions.com
###
Company Contact:
Mallory Eberle
Marketing Manager
WebEquity Solutions
mallory.eberle(at)webequitysolutions(dot)com
800.264.0787 ext. 3