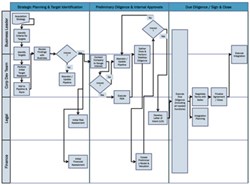 Better positioned to manage complexities, costs and deal outcomes
Greenbelt, MD (PRWEB) September 11, 2013
"Deven Software is taking a clear leadership position investing in partnerships that will improve M&A management and deal outcomes for our customers. Providing Corporate Development, M&A professionals and integration teams M&A software with an M&A Best Practices playbook provides a much needed, simplified turn-key M&A platform," said Nick Perdikis, CEO at Deven Software. "We hear on a regular basis the need for high quality, comprehensive M&A Best Practice playbooks to effectively target acquisitions, manage due diligence through transaction close to post-merger integration. SpringBoard's M&A Management Toolkit represents over 20 years of real-world experience in M&A deal development, transaction and integration with Fortune 500 companies."
"Our strategic partnership with Deven Software is a recognition that best practices and M&A software tools need to be integrated for acquirers to maximize merger and acquisition goals and financial objectives," said Rhonda Carruthers, CEO of Springboard Business Tools. "We are excited to be aligned with Deven Software's EMA-Integrate and EMA-Transact M&A solutions. This is a pivotal offering welcomed by mid-market to Fortune 500 companies."
"This partnership is focused on providing more value to our clients," said Paul Saldo, CSO with Deven Software. "Rhonda and her team brings both real world experience and the intellectual capital to help new and experienced M&A shops improve their governance and process management. In combination with our M&A automation and management software, acquisitive professionals are better positioned to manage complexities, costs and deal outcomes".
Pricing & Availability
The M&A Management Toolkit is available immediately through Deven Software and can be downloaded online through our M&A Best Practices web page. The toolkit is available at an introductory price of $395 through September 30, 2013.
An M&A Best Practices Primer is also available as a FREE download.
About Deven Software LLC
Deven Software offers EMA-Transact and EMA-Integrate, a web-based software suite of applications built entirely for M&A professionals and Post-Merger Integration teams. Our software is available as a SaaS application through our secure cloud environment or can be installed on-premise as a server application. For more information on Deven Software and the EMA suite of products, please visit our web site http://www.devensoft.com. Product briefings are available by contacting us at sales(at)devensoft(dot)com or 855-DEVENSOFT (855-338-3676).
About SpringBoard Business Tools,LLC
We are a group of executives, senior leaders and subject matter experts with more than 100 years of combined experience in developing standardized processes, tools and templates for managing Mergers & Acquisitions, in both consultative and corporate settings. Our team worked to develop, test and perfect our tools over many years; the M&A Management Toolkit is a comprehensive, repeatable and proven playbook. M&A Best Practices and the toolkit are built on Six Sigma certification to create impactful and concise M&A process documents and deliver high value for transaction clients. http://www.springboardbusinesstools.com