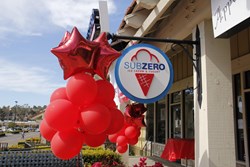 Encinitas, CA (PRWEB) September 10, 2013
On Wednesday, September 11, Sub Zero Ice Cream & Yogurt in Encinitas, CA is partnering with Flora Vista Elementary School to raise money for PTA sponsored activities. Customers who come in with a flyer and mention the fundraiser will have 20 percent of their order donated directly to Flora Vista Elementary.
Sub Zero owners believe that business is more than revenue and sales, it is about impacting the community in a positive way. Encinitas store owners, Suneethi and Krishna Gudapati supports local schools because the rising generation will one day run the community and they need a lot of local support.
"We have donated several times to local schools in the past because we know that kids are the key to the future," Gudapati said. "When we give back to our local schools, we help students get a good education that will benefit all of us one day."
On September 11, a day of service and reflection, the Gudapatis hope to support more than the local public schools. In addition to the fundraiser for Flora Vista Elementary, all emergency personnel will receive ice cream for $2 when they come into the Encinitas, CA store.
"So many people sacrifice their time and energy so that small communities can thrive throughout the U.S.," Gudapati said. "Giving back to local causes, no matter how small, is the best way to unite our community and show appreciation for those who are constantly serving."
Sub Zero Ice Cream & Yogurt is located at 123 N. El Camino Real, Suite E, Encinitas, CA right between Ralphs and Trader Joe's. To help support a good cause and commemorate the day of service, come to Sub Zero and purchase an ice cream any time on September 11.