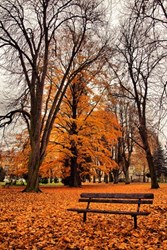 Fairfax, Virginia (PRWEB) September 11, 2013
Fall is just about here which means different allergy triggers to be cautious about. Fall allergies include: ragweed, molds and dust mites. More than 35 million Americans are affected by seasonal allergies which includes fall allergies. Knowing which triggers affect you the most will help you better control your allergies.
Symptoms may include:
-Runny Nose
-Watery eyes
-Sneezing
-Itchy eyes and nose
-Dark circles under your eyes
Some tips to help manage your fall allergies include:
-Staying indoors with the doors and windows closed, especially when the pollen is at its peak
-Use a humidifier if you need to. It helps keep your air between 35% and 50% humidity.
-Wear a mask when you rake the leaves outside. Wearing a mask protects you from breathing in the mold spores that can be found on leaves.
-Clean your heating vents and change the filter before turning it on for the first time.
-Remove pollen from your skin and hair by showering more frequently.
About Pulmonary and Critical Care Specialists of Northern Virginia, P.C.
The physicians of Pulmonary and Critical Care Specialists of Northern Virginia, P.C. (PCCSNOVA) provide care for patients with a wide range of pulmonary diseases such as Asthma, Bronchitis, COPD, Emphysema, Lung Cancer and Pulmonary Nodules. In addition, their board-certified sleep specialists offer local expertise in a variety of sleep disorders such as Obstructive Sleep Apnea, Narcolepsy, Insomnia and Restless Leg Syndrome. They have been recognized as "Top Doctors" by Northern Virginia Magazine and Washingtonian.
References:
Chris Iliades, M. (2013). The Most Common Fall Allergies. Retrieved 9 9, 2013, from EveryDayHealth: http://www.everydayhealth.com/year-round-allergies/most-common-fall-allergies.aspx
Reviewd By: Laura J. Martin, M. (2012, 11 06). Fall Allergies. Retrieved 09 09, 2013, from WebMD: http://www.webmd.com/allergies/guide/fall-allergy-relief