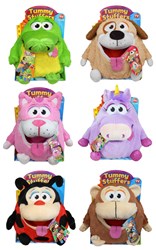 New York, NY (PRWEB) September 10, 2013
Tummy Stuffers, the new plush sensation that turns clean-up time into playtime, has been awarded Dr. Toy's 100 Best Children's Products Award.
"Tummy Stuffers has expanded to worldwide distribution and we are delighted and honored to be recognized by Dr. Toy. Thank you for your seal of approval," said Joe Sutton, Managing Director of Jay@Play.
Tummy Stuffers' tummy will stretch and stretch as Tummy Stuffers are "fed" yummy toys, clothing and accessories. Small and medium are great for organizing small toys, socks, gloves, hats and other accessories. Jumbo is large enough to be used as a hamper. "Tummy Stuffers are perfect for parents and perfect for kids to stuff, store, organize and more," said Shawn Glyn, Director of Worldwide Sales at Jay@Play. Tummy Stuffers can be purchased on http://www.buytummystuffers.com for $19.99 + S&H.
XXX
About Jay@Play:
Jay@Play International offers solution-based products that have been lauded by the toy industry, bloggers and the press. Established in 2004, Jay@Play is a Hong Kong-based company with a showroom in New York City. Their products are distributed internationally through companies that promote all of their brands on television. Following the worldwide success of its Little Miss Muffin and Happy Nappers product lines, Jay@Play introduced CuddleUppets and Shamzees in 2012. New products for 2013 will include SeatPets, I Luv Shmoozees and Tummy Stuffers. Jay@Play International is a subsidiary of Jay Franco & Sons Inc., the home furnishing industry leader.