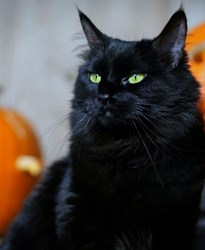 Brea, CA (PRWEB) September 10, 2013
In honor of the initial Friday the 13th of 2013 (Sept. 13), Veterinary Pet Insurance Co. (VPI) analyzed its database of more than 500,000 insured pets to find out how many pet owners opted for macabre monikers for naming their furry friend. In addition to possessing more than 3,000 black cats in its database, VPI, the nation's oldest and largest provider of pet health insurance, has a variety of dogs and cats with monikers that match some of the scariest movie characters in the history of cinema.
Below is a list of the most common pet names in VPI's database that were inspired by spine-chilling movie characters (total number of pets sharing that name in parenthesis):
Most Common Pet Names Inspired by Scary Movie Characters
1. Jack (2218) – "The Shining"
2. Ripley (175) – "Alien"
3. Norman (136) – "Psycho"
4. Freddy (125) – "Nightmare on Elm Street"
5. Salem (68) – "Salem's Lot"
6. Cujo (61) – "Cujo"
7. Michael (47) – "Halloween"
8. Carrie (32) – "Carrie"
9. Damien (30) – "The Omen"
10. Jason (25) – "Friday the 13th"
11. Chucky (23) – "Child's Play"
12. Regan (23) – "The Exorcist"
13. Hannibal (14) – "Silence of the Lambs"
14. Jaws (8) – "Jaws"
15. Voldemort (1) – "Harry Potter"
Among the other spooky pet names in the VPI database are "Black Shadow," "Bones," "Creepy," and "Ghost." To view some of the most creative monikers selected for VPI's Top 10 Most Unusual Pet Names of 2013, visit http://www.wackypetnames.com.
About Veterinary Pet Insurance
With more than 500,000 pets insured nationwide, Veterinary Pet Insurance Co. / DVM Insurance Agency (VPI) is a member of the Nationwide Insurance family of companies and is the oldest and largest provider of cat and dog insurance in the United States. Since 1982, VPI has helped provide pet owners with peace of mind and is committed to being the trusted choice of America's pet lovers.
VPI Pet Insurance plans cover dogs, cats, birds and exotic pets for multiple medical problems and conditions relating to accidents, illnesses and injuries. CareGuard® coverage for routine care is available for an additional premium. Medical plans are available in all 50 states and the District of Columbia. Additionally, one in three Fortune 500 companies offers VPI Pet Insurance as an employee benefit. Policies are offered and administered by Veterinary Pet Insurance Company in California and DVM Insurance Agency in all other states. Underwritten by Veterinary Pet Insurance Company (CA), Brea, CA, an A.M. Best A rated company (2012); National Casualty Company (all other states), Madison, WI, an A.M. Best A+ rated company (2012). Pet owners can find VPI Pet Insurance on Facebook or follow @VPI on Twitter. For more information about VPI Pet Insurance, call 800-USA-PETS (800-872-7387) or visit petinsurance.com.