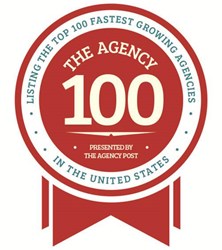 "Growing an agency is more than just a large client roster. It takes a strong and productive team to ensure we deliver our clients the highest return on their digital marketing investment." – Jon Morris, founder and CEO of Rise Interactive
CHICAGO (PRWEB) September 11, 2013
Rise Interactive today announced that it has been recognized as a top agency on the 2013 Agency 100, a list of the fastest-growing agencies in the U.S. The Agency 100, presented by The Agency Post, recognizes firms for their financial stability and outstanding three-year growth rates.
Rise Interactive, a digital marketing agency in Chicago, ranked No. 22 with a three-year growth rate (583%). In the Midwest, Rise ranked second place.
"I'm extremely proud to see the company achieving record-breaking growth," said Jon Morris, founder and CEO of Rise Interactive. "Growing an agency is more than just a large client roster. It takes a strong and productive team to ensure we deliver our clients the best return on their digital marketing investment."
The entire 2013 Agency 100 rankings can be viewed at:
http://www.agencypost.com/agency-100-2013/
About Rise Interactive
Rise Interactive is a digital marketing agency in Chicago that specializes in digital media and analytics. Founded in 2004, Rise Interactive leverages customized reporting to equip quantitatively-minded individuals with actionable insights. The agency's Interactive Investment Management philosophy ensures that a client's budget is allocated to the most profitable marketing channels. For more information, visit http://www.riseinteractive.com or follow the company on Twitter @riseinteractive.