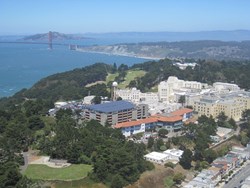 SunWize has contracted over 18MW of solar for the Department of Veterans Affairs throughout the United States. - David Kaltsas, SunWize President & COO
San Jose, CA (PRWEB) September 10, 2013
SunWize Technologies, Inc., a global engineering, procurement and construction company and a premier distributor of sustainable energy products, completed a solar canopy installation for the San Francisco VA Medical Center. The solar electric installation is one of many renewable energy projects at VA facilities across the United States. The Veterans Administration has commissioned these projects as part of its ongoing Energy and Water Management Program.
"The Veterans Administration performed renewable energy studies to determine which of its facilities were best suited for the use of renewable energy technologies," said Emmanuel Bernal, Energy Manager for the San Francisco VA Medical Center. "Our medical center was chosen as one of those facilities, and now, our new 255kW solar PV system will help the VA achieve its nationwide goal of reducing energy costs, decreasing dependence on fossil fuel and improving our environment."
The San Francisco VA Medical Center's solar canopy was commissioned and interconnected in August. SunWize hired subcontractors from the San Francisco Bay Area to execute the construction of the solar electric system. "The fact that SunWize employed local workers for our project was an added bonus," Bernal said. "We were very pleased that our project was able to generate 'green' jobs that have the power to boost our local economy."
The San Francisco VA Medical Center's completed solar canopy consists of 1,022 Samsung modules integrated into a steel structure that was built on top of an existing parking garage. In addition to providing clean, renewable energy, the solar canopy also creates additional shaded parking for 85 vehicles with a spectacular view of the Golden Gate Bridge.
SunWize President and Chief Operating Officer David Kaltsas says his organization is proud to continue contributing to the VA's ongoing national efforts to develop more sustainable facilities. "SunWize has contracted over 18MW of solar for the Department of Veterans Affairs throughout the United States. The San Francisco VA Medical Center project is one of the most recent VA hospitals for which we've designed and installed a solar electric system," Kaltsas said. "We're pleased that the VA has chosen to work with SunWize. Together, we're improving access to sustainable energy while simultaneously increasing public awareness of its far-reaching benefits."
ABOUT SUNWIZE TECHNOLOGIES, INC
Delivering sustainable energy solutions to leading public and private organizations for over twenty years, SunWize is a global Engineering, Procurement, and Construction company, a premier Distributor of sustainable energy products, and a Developer of engineered solutions for mission-critical projects. By leveraging our global network both upstream and downstream, SunWize provides Businesses, Government Agencies and Dealers with the resources they need to execute sustainable energy projects on time and within budget. For more information, visit http://www.sunwize.com.