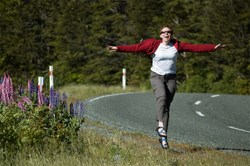 "We recognize the critical importance of funding awareness because so many members of the TheraSpecs community are impacted by migraine and headache disorders."
Phoenix, AZ (PRWEB) September 10, 2013
TheraSpecs is embarking on its first national event sponsorship, the 5th Annual Miles for Migraine race series set for Saturday, September 14, 2013 in San Francisco, CA. The race brings those with severe headache conditions and migraine together with family, friends and supporters for a day of education, activity and awareness.
Miles for Migraine is a non-profit organization founded by medical professionals, allied health practitioners and laypersons to spread information and awareness of the need to additionally fund research into the causes, prevention and cure of debilitating headache disorders including migraine, a serious neurological condition that currently affects more than 36 million Americans.
"We chose to sponsor Miles for Migraine because we thoroughly believe in the organization's mission," said Hart Shafer, TheraSpecs founder and president. "We recognize the critical importance of funding awareness because so many members of the TheraSpecs community are impacted by migraine and headache disorders."
Shafer said it was an easy choice to sponsor Miles for Migraine because the organizations' mission is similar to TheraSpecs'.
Shafer founded TheraSpecs as a way to help his wife, Kerrie, deal with the chronic migraine and headache she has suffered since she was a teenager. The idea for TheraSpecs was inspired by Kerrie's neurologist, who warned her that wearing sunglasses indoors was detrimental, and actually made her more sensitive to light. Disappointed with the quality and effectiveness of light-filtering eyewear that was available at the time, and determined to alleviate his wife's condition, Shafer applied his product-development background to the design and creation of a premium-grade, affordable "migraine glasses" as the eyewear is sometimes called. Not long after, TheraSpecs was officially launched.
About TheraSpecs
TheraSpecs was founded on the premise that light should never hurt, aggravate, or confine people to a dark room. TheraSpecs are precision-tinted, thoughtfully designed eyewear created to filter the light that can trigger or worsen migraine, headaches and eyestrain. TheraSpecs protect and soothe the eyes and brain so those who are prone to migraine and artificial light-related pain can return to – and embrace – daily life.