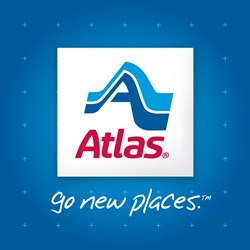 Evansville, Ind. (PRWEB) September 10, 2013
Atlas World Group, Inc., the parent company of one of the nation's leading moving companies Atlas Van Lines, today announces that it made this year's InformationWeek 500,a list of the top technology innovators in the U.S. This is the company's fifth consecutive year to be recognized on this distinguished list of the nation's most ground-breaking users of business technology. The full list can be found at http://www.informationweek.com/500.
Dedicated to bringing the highest level of efficiency in each move, Atlas constantly searches for new ways to advance the moving experience through innovative tools that better suit the needs of today's customers. Atlas was recognized for the development and implementation of its AtlasNet Inventory app, which transforms the inventory process into a more efficient and technologically advanced task for Atlas Professional Van Operators (PVOs), or drivers, and moving crews. Leveraged by the backend architecture of other AtlasNet applications, this device aligns with Atlas' underlying mission to provide top-tier customer service in all aspects of a move.
"It's an honor to be recognized for our efforts in advancing the way technology fits into the moving industry by being included in InformationWeek's list of innovative companies for the fifth year in a row," said Michael Neeley, vice president and CIO of Atlas World Group, Inc. "Just more than a year old, the AtlasNet Inventory app is being adopted by more and more Atlas agents to streamline the inventory process and enhance customer satisfaction. This application, among many others, indicates Atlas' commitment to staying at the front line of technology innovation in the moving industry and to continue to develop new processes that generate a better moving experience."
The AtlasNet Inventory application allows for PVO's to scan the contents of the customer's move and note the overall condition, greatly improving the way shipment inventory is handled. The app also gives customers and drivers more accurate, legible inventories with the flexibility of printing or emailing documents such as inventory reports. In addition, this app utilizes a sign-capture capability that permits customers to securely sign documents on any device. Most importantly, the AtlasNet Inventory app pledges a higher level of accuracy, thus significantly reducing the number of filed claims after a completed moved.
"The theme of this year's InformationWeek 500 is digital business," said Rob Preston, editor in chief of InformationWeek. "It's a movement, rooted in data analytics, mobile computing, social networking and other customer‐focused technologies that are turning companies and industries on their ear. Every enterprise is now a digital business—or needs to become one fast. The organizations in our ranking are leading the way."
InformationWeek identifies and honors the nation's most innovative users of information technology with its annual InformationWeek 500 listing, and also tracks the technology, strategies, investments and administrative practices of some of the best‐known organizations in the country. Past overall winners include Beth Israel Deaconess Medical Center, PACCAR Inc., The Vanguard Group, CME Group, National Semiconductor, Con‐Way and Principal Financial Group. Unique among corporate rankings, the InformationWeek 500 spotlights the power of innovation in information technology.
Additional details on the InformationWeek 500 can be found online at http://www.informationweek.com/iw500/. For more information on Atlas World Group, visit http://www.atlasvanlines.com.
About Atlas World Group
Atlas World Group is an Evansville, Ind.-based holding company and the parent corporation of Atlas Van Lines, Inc. Atlas World Group companies employ nearly 700 people throughout North America through a network of quality agents and select service partners to provide a variety of relocation and transportation services for individuals and organizations worldwide. Nearly 500 Atlas interstate moving agents in the United States and Canada specialize in corporate relocation, household moving services and in the specialized transportation of high-value items such as electronics, fine art, store fixtures and furniture.
About InformationWeek
For more than 30 years, InformationWeek has provided millions of IT executives worldwide with the insight and perspective they need to leverage the business value of technology. InformationWeek provides CIOs and IT executives with commentary, analysis and research through its thriving online community, digital issues, webcasts, proprietary research, and live, in‐person events.
InformationWeek is produced by UBM Tech, a global media business that brings together the world's technology industry through live events and online properties. Other UBM Tech's brands include EE Times, Interop, Black Hat, Game Developer Conference, CRN, and DesignCon. The company's products include research, education, training, and data services that accelerate decision making for technology buyers. UBM Tech also offers a full range of marketing services based on its content and technology market expertise, including custom events, content marketing solutions, community development and demand generation programs. UBM Tech is a part of UBM (UBM.L), a global provider of media and information services with a market capitalization of more than $2.5 billion.