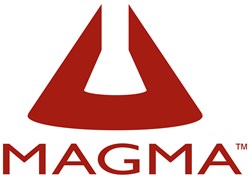 San Diego, CA (PRWEB) September 12, 2013
Magma, a developer of high performance expansion products and an industry leader in PCI & PCI Express (PCIe) expansion solutions for servers, desktops and portable platforms, has named Tim Miller as its new company president. Miller, an industry veteran, with over 25-years of experience in the technology sector will oversee the company's day-to-day operations with a focus on driving Magma's market position within the computer expansion and connectivity segment. Former president, Randy Jones, will continue to serve the company as chief executive officer. Jones will focus on corporate finance and strategic planning across all of the company's business sectors.
"Tim Miller is the right guy to lead Magma," explains Jones, Magma's chief executive officer. "We are on the threshold of so many market opportunities and new technological advances that we need someone with Tim's drive and focus to help us realize the vision. He has the perfect balance of engineering acumen, business management experience and practical industry wisdom to take our company to an exciting new level."
Miller has served as Magma's Chief Operating Officer for the past 3-years and has been responsible for overseeing Magma's growth in several key market segments. Prior to joining Magma, he served as the chief executive officer for Dolphin Interconnect Solutions and StarGen, Inc,. He has also held numerous management positions at Digital Equipment Corporation. Miller holds a Bachelor of Science in Engineering from Cornell University, a Masters of Business Administration from the Wharton School of Business and a Masters of Science in Computer Science from the University of Pennsylvania He started his career as a Civil Engineer Corp Officer in the US Navy.
Under Miller's leadership, Magma plans to debut their newest product technologies at a series of key industry trade shows and events this fall. Among the key events are the Intel Developers Form (IDF) in San Francisco, California, the International Broadcasting Convention (IBC) in Amsterdam, the Netherlands and the Audio Engineering Society (AES) in New York City, New York
About Magma
Magma develops and manufactures PCI & PCI Express Expansion Systems for servers, desktops and portable platforms. Magma's ExpressBox™ line of products includes enclosed and non-enclosed solutions ranging from low-end single slot expansion products to fault-tolerant, highly reliable, available and serviceable (RAS) chassis specifically designed for mission critical environments. Magma products are platform independent and are used in a variety of industries including audio and video production, test and measurement, medical imaging, surveillance, aerospace and defense, telecommunications, data acquisition, and high performance computing. Magma's team of experienced engineers has been developing expansion and connectivity solutions since 1987.
For more information about Magma, call (800) 285-8990 or visit our website at http://www.magma.com.