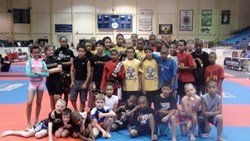 Camp Springs, MD (PRWEB) September 10, 2013
Lloyd Irvin Martial Arts Academy is located in Southern Prince George's County and has one of the County's most prestigious After School programs. With Prince George's County Public Schools entering week three, most parents already have a grasp on where their kids will be spending their time after school, but for those undecided parents, Lloyd Irvin Martial Arts Academy may be the place for you.
The Lloyd Irvin Martial Arts program has been servicing area schools and parents for over ten years, being more than just a "babysitting" program, the Academy offers a structured environment where kids can develop skills in the critical hours between school and home. Most schools let out hours before parents get out of work and most young kids spend this time unsupervised, watching tv, playing video games, and surfing the internet, which can lead to some not so good consequences. Or worse, kids are out on the streets, hanging with the wrong crowd before their parents get home.
At Lloyd Irvin Martial Arts Academy, the After School program is focused on kids ages 7-13, those critical years that can greatly determine the future and success of these children. Lloyd Irvin Martial Arts After School program offers a "pick up" service to 24 schools in the Southern PG area, where the staff picks up registered After School students from their schools and bring them back to the Academy.
Once at the Academy, students are taken to the kitchen where they can have snack brought in from home. After that, it's on to homework. Tutoring is not offered, however, staff assists and supervising the students to make sure homework is complete and correct. Once, the homework is complete, the student moves on to martial arts and life skills training. This portion of the program teaches the youngsters martial arts for self defense and real-life situations, bully-prevention, leadership skills, self-confidence exercises, manners and much more.
Here's a list of the schools where Lloyd Irvin Martial Arts Academy now offers pick up:
Rosaryville Elementary School
Mattaponi Elementary School
Melwood Elementary School
Brandywine Elementary School
National Christian Academy
Imagine Lincoln Charter School
John Hanson French Immersion School      
James Madison Middle School 
Tayac Elementary School
Rose Valley Elementary School
J.P. Ryon Elementary Schoool
John Hanson Middle School
Berry Elementary School 
Allenwood Elementary School
Avalon Elementary School
Francis T. Evans Elementary School
Skyline Elementary School
National Christian Academy
Longfields Elementary School
Barrack Obama Elementary School
Frederick Douglas High School
Morningside Elementary School
Waldon Woods Elementary School
Excellence Christian Academy (Frank Tippet)
If your school is not listed, you can still take advantage of this amazing After School program, you will just have to transport your child yourself.
What's also new for the Lloyd Irvin Martial Arts After School Program is their one week free offer. This has never been done by Lloyd Irvin before, but the goal of the offer to get more kids into the program and off of the street. For any new parent who is interested in the After School program, they can try it out for one week totally free, pick up included. More more details on the free week offer, please call 301-449-KICK and ask for Coach Nyjah Easton, the director of the After School program.
There are less than 10 spots left in the After School program, so be sure to act quickly.
For more information on Lloyd Irvin Irvin's After School program, please visit http://www.FreeAfterSchoolProgram.com or call 301-449-KICK