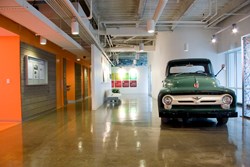 It's an opportunity to see what these firms are doing, and not in some TEDesque PowerPoint forum but there, on the ground floor, in the places where it's actually happening: their offices, labs, and studios.
Detroit, MI (PRWEB) September 10, 2013
Team Detroit is proud to be the exclusive communications agency to participate in the first-ever OpenCo event taking place in Detroit September 12. The agency will be opening up shop at The Detroit Mercantile Co. in Eastern Market, and attendees can choose one of two hour-long sessions at 11:00 a.m. and 1:00 p.m.
As business festivals go, many are laden with slide show presentations, stale confections and end with silence when the anticipated "any questions?" is uttered. OpenCo takes a different path. Designed to be a mashup of a business conference, an artist's open studio and a music festival, OpenCo aims to attract professionals to Detroit companies for a glimpse of what makes Detroit an intriguing place to do business. It celebrates companies that express the concept of openness: open collaboration, open communication, open community, open company and open doors.
In the spirit of openness, Team Detroit will ask OpenCo attendees to select one of four Detroit stories to be told, led by Michele Silvestri, Global Director of Design. Mike Bentley, Chief Strategy Officer, will begin the session describing how Team Detroit is unlike any other agency in the world. The One Team model Team Detroit built lets brands seamlessly tell their story across all media and channels. The sessions will close with a panel of Team Detroiters who work across several disciplines, including creative, media, digital and technology. They will discuss the future of storytelling and branding and answer audience questions.
Team Detroit has collaborated with many Detroit brands to help tell their story, such as the College for Creative Studies, United Way for Southeastern Michigan, WDET, Detroit Dirt, The Greening of Detroit, Ford Motor Company and many more. These stories have also helped spread the story of Detroit – how a troubled city is rebuilding itself into a hub of innovation.
"It's an opportunity to see what these firms are doing, and not in some TEDesque PowerPoint forum but there, on the ground floor, in the places where it's actually happening: their offices, labs, and studios," said Toby Barlow, Chief Creative Officer for Team Detroit and active Detroit supporter. "You can learn from their strategies and their executions, glean some insights from their successes, maybe even drop off a business card or two."