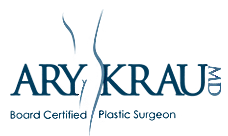 Miami, FL (PRWEB) September 10, 2013
Ary Krau, M.D., director of his own private cosmetic plastic surgery practice, has been selected by Mentor Worldwide® to serve on its Mentor® LEAD Program Advisory Board, where his input and guidance will help educate other cosmetic surgeons and help determine the course of cosmetic surgery techniques and products. Dr. Krau is one of only 35 surgeons chosen nationwide to serve as an advisor in the LEAD program, whose name stands for Leadership, Experience and Development in Breast Augmentation.
As a global leader in the design and manufacture of innovative plastic surgery implants and products, Mentor® Worldwide developed the LEAD advisory board for three chief purposes: To provide a platform where the country's top cosmetic surgery experts can discuss techniques and experiences that will help advance the field, to enable these thought leaders to engage and educate other practitioners in the field, and to provide guidance that will aid in the development of new products that will help ensure better results, safer procedures, and greater levels of patient satisfaction.
Selection to the exclusive Mentor® LEAD advisory group underscores Dr. Krau's own achievements as a surgeon and points to the levels of esteem and respect with which he and his practice are regarded by his peers. In addition to a tireless commitment to the care and well-being of his patients, Dr. Krau is deeply dedicated to developing a greater, more in-depth understanding of the field of cosmetic surgery and remaining abreast of emerging developments that can help him achieve even better results for the men and women he treats.
Dr. Krau's own commitment to a best-practices approach made him an ideal choice to help Mentor® achieve its goals of remaining a global leader in implant technology. At the forefront of the implant industry, Mentor's product line, including saline, silicone and ultra-cohesive breast implants, are used in thousands of patients each year. Its popular MemoryShape™ implant is one of Mentor®'s newest products, recently gaining FDA approval after being available for more than a decade on the world market.
To learn more about Dr. Krau's private practice in Miami and the procedures that you may be considering, contact Dr. Krau's office today by calling 305-861-6881 or visiting his website at http://www.arykraumd.com.
About Dr. Ary Krau
Dr. Krau is a board-certified plastic surgery who practices in Miami, Florida. A former reconstructive surgery instructor at the University of Miami, he appeared in the Bravo reality series "Miami Slice." Dr. Krau performs all his procedures in a fully accredited surgical center located in Bay Harbor Islands, and is known for his natural-looking results, which draw patients from around the world. He is a diplomate of the American Society of Plastic Surgeons.