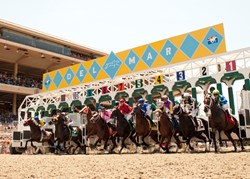 Del Mar, Calif. (PRWEB) September 10, 2013
Del Mar concluded its seven-week summer celebration of thrilling races and world-class events and entertainment as the final Thoroughbreds crossed the finish line Wednesday. Increased attendance and handle, top athletes (both two- and four-legged) and incredible entertainment made this season one for the books.
One of San Diego's most anticipated summer events – Opening Day at Del Mar – drew 43,030 fans and most of them were in full party mode. By the end of the meet, overall attendance numbers showed a slight increase from 2012, averaging 17,656 visitors per day during the 2013 meet. In total, 653,259 people walked through the gates over 37 days of racing, allowing Del Mar to remain the most highly attended track in California.
"A lot went into making this season a great show with exciting events and terrific racing," said Joe Harper, president of the Del Mar Thoroughbred Club. "The response by our fans was outstanding, as always. They were spirited, the betting windows were packed and the Del Margaritas were flowing – an excellent season by any measure."
Highlights of the summer entertainment calendar included performances from The B-52s, Fitz and the Tantrums, Sammy Hagar and Weezer as part of the Del Mar Summer Concert Series, which also included the fan-favorite reggae festival featuring Ziggy Marley. Two concerts were accompanied by beer fests – each offering more than 100 brews – and Del Mar also catered to fans' taste buds with the third annual Gourmet Food Truck Festival and the all new Grill Fest, where more than 25 seasoned barbeque pros and local restaurants grilled up everything from veggies to desserts.
Now in its fifth year, the Miss Cougar Del Mar competition drew contestants from all over Southern California – and one male finalist from Canada, unknowingly nominated by his friends. Ms. Debra Olson from Eureka, Calif. was ultimately crowned as the winner of the tongue-in-cheek competition. Family Fun Days, the popular Donuts Days and Wienerschnitzel Wiener Nationals rounded out the calendar with family friendly entertainment at the track all season long.
Del Mar was the setting for the world's largest Instameet, as more than 450 attendees snapped away at the 1940s pinup-themed "Haute As Ever" event on August 24. Attendees used their smartphones to capture vintage hot rods, burlesque dancers, live models in '40s-style clothing and, of course, the beauty of the seaside track itself, sharing more than 1,000 photos on Instagram – a number that continues to grow.
Fans not only enjoyed a robust events and entertainment lineup: the track's final handle figures prove fans headed to the betting windows to get their share of action. Del Mar registered an overall handle increase of 5.2 percent during its season, totaling $482,336,877 in all-sources bets for a daily average handle of $13,036,132.
The $1 million TVG Pacific Classic, Del Mar's richest and most prestigious race, continued its marquee reputation as Game On Dude (ridden by jockey Martin Garcia) won the signature race by a record 8 ½ lengths. Added to his previous wins in the Santa Anita Handicap and Hollywood Gold Cup, Game On Dude is one of just two horses to sweep that trifecta of California races in the same year. He was voted top horse of the 2013 meet by unanimous decision.
The track also saw great success from out-of-state Thoroughbreds in the third year of its "Ship and Win" program. Last season, 137 horses in the program won 13 races. This year, a record 149 horses came to Del Mar from outside California and won 24 races. A related metric – field size – also grew for the third year in a row, from 8.66 in 2012 to 8.79 in 2013, alongside healthy horses and excellent racing conditions.
Fast horses, top-notch entertainment and beautiful people make Del Mar a summer destination for thrill-seekers from across the country, and the track's 2013 season boasted all three, and then some. Fans will now eagerly await the next season, which will begin on Wednesday, July 16, as well as a brand new autumn meet, which is tentatively scheduled from November 5 to December 7. For more 2013 results or information about tickets for the 2014 seasons, visit http://www.delmarscene.com or call (858) 755-1141.
Del Mar Racetrack by the Numbers
149,000 - Bales of hay delivered to stables
445 - Contestants in the Opening Day Hat Contest
10, 500 - Donuts served on two annual Donuts Days
112 pounds - Average weight of jockey
1,050 pounds - Average weight of horse
2,000 - Number of horses housed at Del Mar
58,250 - The number of Del Margaritas sold during the season
$19,909,779 - Highest amount bet on a single day – Sunday, Aug. 25
$376,822.20 - Most money won by a bettor (via Pick Six) on a single day – Friday, Aug. 30
328 - Times announcer Trevor Denman said, "And away they go!"