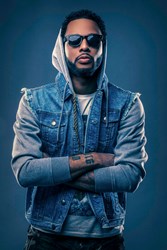 New York, NY (PRWEB) September 09, 2013
Coast 2 Coast Mixtapes announces the release of the "Out On The Ledge" Music Video by Steff Reed. The project, presented by Coast 2 Coast Video Distribution, is now available for view on YouTube. The video is directed, edited and shot by Garth Von Glehn for Love Cine Films.
Steff Redd is a singer, songwriter, and producer from Harlem, New York. After writing and producing for the likes of Trey Songz, Lil Mo, Sisqo, and many other major label artists, Steff is currently focusing his energy on developing his own artistry. As a teenager, Steff's musical outlook took shape listening to producers such as Devante Swing, Teddy Riley, and Kenneth "Babyface" Edmonds. He took that musical inspiration and taught himself how to play piano by ear, later winning a college scholarship to further pursue his music career after co-writing his school's song and opening the 1997 McDonald's Gospel Fest with his singing group, Reality.
Steff ran with all the opportunities provided to him and is now an established industry insider, collaborating with many of the music business' top writer-producers including Troy Taylor, Swizz Beats, Checky Thompson, Gordon Chambers, Makeba Riddick, Ezekiel "Zeke" Lewis, and Claude Kelly. This unique experience positions Steff to have not only a strong understanding of where the music industry is currently but also where it is headed. When his rendition of Dirty Money's "Loving You No More," recorded as a duet between himself and KirssiLuv, received over 100k views on YouTube and found its way onto top national radio stations such as Power 105, WPGC 95.5, and Hot 97, Steff knew it was time to focus on his career as an artist.
"Out On The Ledge" is the lead single off of Steff Reed's debut release, "The Intervention." "The Intervention" is heavily inspired by the new wave of creative crossover artists who blend the lines between popular genres. This new class of musical innovators includes The Weekend, Frank Ocean, Drake, and the Cocaine80s project. "The Intervention" is highly anticipated due to the accolades steadily stacking up under Steff's already accomplished career, recently featured in Essence magazine, who compared Steff to singer/songerwriter/producers Ryan Leslie and Pharrell Williams. Steff has also been voted artist of the month by Blackplanet.com and rated the #1 global artist on ReverbNation.com.
"Out On The Ledge" music video features very dark themes. Most of the video takes place in what appears to be in a basement torture chamber where Steff finds himself in a straight jacket and later a noose. The Vampire feel of the video brings lots dispersed light shinning across grimy walls as Steff battles drinking and a dark mysterious woman. The visuals for this video really play on the eerie layered harmonies and crunch vocal effects used through out the song. This is one artist who cannot be ignored as Steff is a serious creative innovator with all the resources, drive, and talent needed to break through this competitive popular music industry. Steff Reed is on the rhythmic road to reinvention. Keep up with Steff Reed on his official website.
About Coast 2 Coast Mixtapes
Coast 2 Coast Mixtapes are the most widely distributed mixtapes in the world, with over 100 million downloads/plays generated by over 200 volumes officially hosted by major artists. Coast 2 Coast has a solid reach in the new music industry with a digital magazine, DJ coalition, industry tips blog, yearly convention, and more. Coast 2 Coast Mixtapes represents a unique opportunity for artists of all urban genres, from major to indie. For more information, visit http://www.coast2coastmixtapes.com.