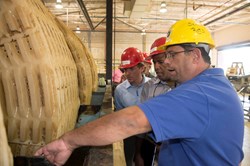 'It's a perfect teaching tool,' said Shetley. 'We don't discharge any waste water. Everything goes right back to the SIUE Waste Water Treatment Plant. It's a closed loop.'
(PRWEB) September 09, 2013
A delegation from Louisiana visited the Southern Illinois University Edwardsville's Environmental Resources Training Center (ERTC) on Friday in hopes of duplicating the unique Center's successes in Baton Rouge.
"It's hard to find places that train people in this field, which is surprising as everybody needs waste water and water treatment," said David R. Gullory, public works director for the Department of Public Works for the City of Baton Rouge and the Parish of East Baton Rouge.
Gullory was one of four engineers who traveled to the University to tour the ERTC, the SIUE School of Engineering and the campus. Others accompanying Gullory included: Dr. Patrick Carriere, associate dean and professor at Southern University College of Engineering in Baton Rouge; Joshua R. Crowe, program manager at CH2M HILL in Baton Rouge; and Dr. Joshua Joseph, senior technologist at CH2M HILL. CH2M HILL is a consulting, design, design-build, operations and program management firm with offices in Baton Rouge. The company's world headquarters is located in Englewood, Colo.
Paul Shetley, ERTC director, explained the purposes and functions of the Center to the Louisiana contingent. Leading the tour were Shetley and three of his staff members: Kim Bateman, operations manager; Rick Lallish, program director for Waste Water Operations; and Kurt Neuhaus, ERTC instructor.
Two sump pumps pull water from the SIUE Waste Water Treatment Plant to ERTC, where it goes through water and waste water training scale treatment plant. Then it is sent back down the hill to the treatment plant, according to Bateman.
"It's a perfect teaching tool," said Shetley. "We don't discharge any waste water. Everything goes right back to the SIUE Waste Water Treatment Plant. It's a closed loop.
"No one drinks the drinking water that we treat," he said. "This is one of the greatest teaching tools. We're the most unique training center in the nation."
The Center does two things, according to Shetley. The first is to offer a one-year program for students, who work eight hours a day, four days per week and learn everything about drinking water, treatment and waste water operations. The class of 27 full time students will graduate in July 2014. Secondly, the ERTC trains those people who are already in the field and provides them with continuing education to keep abreast of new technology.
The ERTC building was constructed in 1978 and will graduate its 33rd class in July 2014. The training center is equipped to enroll 25-30 students a year.
"I'm really interested in the hands on aspect of it, and how much the students learn" said Crowe. "I also like how ERTC has worked with the community and formed partnerships. It's really progressive. I don't know of any other place like this. Hopefully, we'll have a center like this one day."
The City of Baton Rouge and Southern University College of Engineering are collaborating to create a center similar to ERTC, said Carriere. "It's a first-class training center," he said. "After one year of training, I understand that a very high percentage of students go on to become certified."
"ERTC continues to be a tremendous opportunity for students to enter a thriving and necessary water/waste water profession," said Joseph. He came to SIUE early on Thursday to make a presentation to those students interested in engineering and sustainability. Joseph discussed projects his company, CH2M HILL, is working on.
"We're thankful to be here," said Joseph, who first visited the ERTC in 2010 on a fact-finding mission. "We're thankful for Baton Rouge to be able to learn and grow from this experience."
"We're happy they're here," Shetley said. "We think they'll be able to learn from the best."