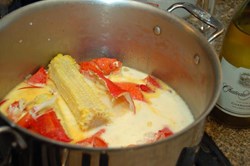 (PRWEB) September 11, 2013
As the days of summer are dwindling and fall is quickly approaching, it will soon be time for comfort foods that warm the body and soul, which is why GetMaineLobster.com has unveiled its latest recipe: Get Maine Lobster Corn Chowder. This recipe is as easy to prepare as it is delicious!
Ingredients for Get Maine Lobster Corn Chowder include four 1.5-pound cooked Maine lobsters. Now on special at GetMaineLobster.com, four live Maine lobsters can be delivered fresh from dock to doorstep for only $75.00, a discount of more than 50 percent off of the standard price!
Additional ingredients include four ears of organic sweet corn, three-fourths of a stick of unsalted butter, one tablespoon of olive oil, two cups of chopped Vidalia onions, four cups of diced red potatoes, one quarter of a cup of cream sherry, one teaspoon of sweet paprika, four-and-a-half cups of organic whole milk, two cups of heavy cream, one cup of dry white wine, one-quarter pound of crispy bacon, one tablespoon of kosher salt, one teaspoon of freshly ground black pepper, and two teaspoons of freshly chopped chives.
To prepare the stock, sauté one large diced onion and four stalks of chopped celery in butter until slightly golden. Next, fill the pot with water until about three-quarters full and add four large chopped carrots, four shaved corn cobs and the shells of four lobsters. Then, bring the mixture to a boil, set the heat to medium and reduce the stock to about one-fourth of its original volume. Finally, strain the mixture and set aside.
In a stock pot or Dutch oven, add the olive oil and melt the butter before adding in the onion and cooking over medium heat until translucent. Next, add the paprika, wine and sherry, and cook for one minute. Then, add the potatoes, organic corn kernels, salt and pepper, and sauté for five minutes. Add the stock into the pot with the potatoes and corn, stirring to mix all of the ingredients. Simmer until the potatoes and corn are tender. Next, add the milk and cream and bring to a very low simmer, being careful not to heat too much. Add the cooked Maine lobster, chives and season with salt and pepper to taste. Finally, serve the Get Maine Lobster Corn Chowder in large bowls and garnish with the crisped bacon!
GetMaineLobster.com adds new recipes each week so seafood lovers can explore a number of ways to enhance their dining experience by adding Maine lobster. Learn more about Get Maine Lobster's wide range of seafood offerings, access lobster and seafood recipes, and view current specials by visiting GetMaineLobster.com or by calling (866) 562-4817. Stay updated and Like us on Facebook or follow us on Twitter. For even more lobster news and recipes go to JustAddLobster.com.
About GetMaineLobster.com
GetMaineLobster.com, a division of Black Point Seafood and Black Point Gourmet, hand-selects the finest Maine lobster, seafood and beef products for convenient distribution throughout the United States. Their passion is to make fresh, quality seafood readily available to customers across the country, which is why they buy from only the most trusted, well-established suppliers to ensure that they receive the finest products available.
GetMaineLobster.com was selected out of the more than four million small American businesses served by Chase bank to represent its new Platinum Business Checking product for its 2013 national advertising campaign.