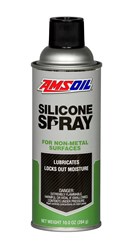 (PRWEB) September 10, 2013
AMSOIL Silicone Spray has recently undergone a reformulation and packaging redesign. The product is delivered by means of an aerosol spray that effectively lubricates and protects nonmetal surfaces with a dry lubricating film, making it ideal for applications that may be damaged by conventional lubricants such as grease or oil. AMSOIL Silicone Spray provides outstanding protection where light-duty or silicone lubricants are recommended, including rubber, plastic, nylon, upholstery, vinyl, wood, cardboard and other nonmetal surfaces.
Silicone Spray's special non-staining formula is also excellent for waterproofing and protecting leather boots, shoes, jackets, suede and more. For leather and sensitive surfaces, initially apply to a small area. Silicone Spray may slightly alter the color or hue of the leather. It leaves a clear, odorless film and locks out water while keeping applications contaminant free.
AMSOIL Silicone Spray now comes with new packaging and a quantity increase when ordering by the case. The product is available in convenient 10-oz spray cans.
About the Company:
AMSOIL has been the recognized leader in synthetic lubrication since 1972. For more information about AMSOIL synthetic motor oils and performance products contact your nearest AMSOIL distributor, or call AMSOIL at (715) 392-7101 or 1-800-777-8491. AMSOIL INC., 925 Tower Avenue, Superior, WI 54880, or go to http://www.amsoil.com.
News Contact:
Ed Newman
715-392-7101
enewman(at)amsoil(dot)com