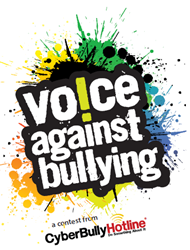 This contest gives students an opportunity to envision a future without bullying. — Paul Langhorst, VP of Marketing
St. Louis, Missouri (PRWEB) September 10, 2013
The Voice Against Bullying contest from the CyberBully Hotline is now accepting entries from U.S. students in grades 7 through 12. The CyberBully Hotline, a leading provider of anonymous bully reporting programs to U.S. K-12 schools, is encouraging students to think about how their schools would change if bullying didn't exist.
"Statistics tell us that 42% of students have been bullied online, and one 2010 study showed that almost two-thirds of surveyed teens didn't report bullying when it happened to them," said Paul Langhorst, VP of Marketing for the CyberBully Hotline. "This contest gives students an opportunity to envision a future without bullying."
To enter the contest, students are to post a 15-second video to a non-private Instagram® account that completes the statement, "If bullying didn't exist, my school would…" Students are to use the hashtag "#voiceagainstbullying" in the caption of their video.
A panel of judges from the CyberBully Hotline team will award the top entries with valuable prizes. One grand prize winner will win an Apple iPad® mini and a CyberBully Hotline for their school for one year. Two second place winners will win $250 in cash, and 5 third place winners will win a $25 Amazon.com gift card.
"Any student with an iPhone® or an Android® phone can easily create an Instagram video," said Margaret Schatz, CyberBully Hotline's national marketing director. "We encourage every student to get creative, be visionary and tell us how their schools would be transformed without bullying."
Videos can be funny or serious, but they should all address the question of how schools would be different without bullying. More info on the judging criteria can be found in the Voice Against Bullying contest rules, which are available at voiceagainstbullying.com.
The contest entry period runs from 12:00 PM CST on September 10, 2013 to 11:59 PM CST on October 31, 2013.
About the CyberBully Hotline
The CyberBully Hotline, which was named a Best New Product by Tech & Learning Magazine in 2012, is an industry-leading anonymous reporting program used by schools nationwide to help students report difficult issues such as bullying, fighting, violence, and more. The CyberBully Hotline is a service of SchoolReach, a national leader in K-12 school notification and communications technology solutions. For more information about the CyberBully Hotline, go to cyberbullyhotline.com or call 1-800-420-1479.