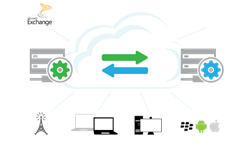 The Microsoft Exchange platform delivers a tried and true corporate email solution.
Birmingham, Ala. (PRWEB) September 10, 2013
Momentum, the number one most reliable cloud communications provider, today announced the release of its Microsoft Hosted Exchange solution.
Central to all lines of business, email remains a primary business communications tool.
In developing a comprehensive product line, one that already includes everything from hosted PBX and video conferencing to contact center and call reporting, Momentum found email to be a fundamental addition.
Professionals leverage real-time technology and a wide range of collaboration tools to communicate. That is why today's workforce relies on email for more than just standard email messages - calendar invites for conference calls, Internet faxes and voicemails can all be delivered straight to the Inbox.
"Email has become a central communications hub, which makes having access to a reliable, feature-rich business email service like Microsoft Hosted Exchange more vital than ever," said Brandon Hagood, Momentum Director of Product Development.
The popularity of outsourcing email to trusted hosted exchange providers is increasing as organizations realize the opportunity for savings and a hassle-free migration. Businesses benefit significantly from eliminating the upfront cost of deployment and the ongoing expenses of maintaining servers, hardware licenses and upgrades it takes to support an Exchange infrastructure in house.
"The Microsoft Exchange platform delivers a tried and true corporate email solution. And with Momentum's cost-effective hosted product, businesses can take advantage of the industry's leading Microsoft messaging platform - it's enterprise grade email on a small business budget," said Hagood.
Here is what the number one business email server has to offer:
Unlimited Mailbox Storage: Use archive tools for effortless organization
Custom Domain: Create professional branded email addresses
Anywhere Access: Offer flexibility with desktop, web and mobile clients
ActiveSync: Sync mailbox folders, calendars and contacts across devices
Superior Reliability: Ensure business continuity with 100% scheduled uptime
Safe and Secure: Protect users from viruses, spam and phishing
ABOUT MOMENTUM:
Momentum, a leading business communications provider, offers smart, personalized cloud solutions to direct subscribers and more than 300 partners nationwide. As one of the industry's most reliable providers, Momentum delivers superior voice quality backed by a geo-redundant network with 100% uptime. Momentum provides an expansive solution that includes hosted VoIP, SIP trunking, collaboration tools and unified communications services. Learn more at http://www.gomomentum.com.