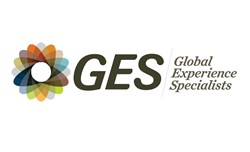 Las Vegas, NV (PRWEB) September 10, 2013
Global Experience Specialists (GES), a leading global provider of exhibition, event and entertainment experiences, announced that Penton has selected GES as its official services provider through 2018.
GES has partnered with Penton for more than 25 years and the new contract covers 10 shows including Natural Products Expo West, Natural Products Expo East, WasteExpo and LDI.
"Each time we produce an event our focus is to provide all participants with a valuable experience," said Penton President of Exhibitions, Sandy Voss. "In partnering with GES we gain an experienced team as well as robust solutions that assist us to continue to deliver exceptional shows, outstanding service to our exhibitors and world-class engagement for our attendees. We look forward to growing our events with GES through 2018."
Penton and its exhibitors will benefit from GES' easy-to-use technology including GES ConnectSM, Interactive VenueSM and Expresso® by GES and will have the opportunity to contribute to other innovative tools currently in development.
"We are honored that after an extensive bid process, Penton has chosen to continue to entrust its portfolio of shows to us," said GES President Steve Moster. "Our team is passionate about delivering flawless events for our clients and we appreciate that the Penton team also values our strategic services and new technologies."
GES and Penton have partnered on environmentally responsible events, winning two industry awards this year for the sustainable practices of Natural Products Expo East and Natural Products Expo West.
About GES
Global Experience Specialists, Inc. (GES), a Viad Corp (NYSE: VVI) company, is a leading marketing agency that produces exhibitions, events, exhibits and retail environments. GES provides a wide range of services, including turn-key official show services, cutting-edge creative and design, marketing and measurement services—all with an unrivaled global reach. GES partners with leading shows and brands, including Penton, Spring Fair Birmingham, International Woodworking Fair, CONEXPO-CON/AGG and IFPE, Bell Helicopter, L'Oreal, Warner Bros., and Simon Property Group. GES' National Servicenter℠ has been recognized with certification under the J.D. Power and Associates Certified Call Center Program℠ for the past five years, and for the fourth year in a row, Ad Age has named GES as one of the "World's 50 Largest Agency Companies". For more information, visit ges.com or the GES blog at defyingconvention.ges.com.
About Penton
For millions of business owners and decision-makers, Penton makes the difference every day. We engage our professional users by providing actionable ideas and insights, data and workflow tools, community and networking, both in person and virtually, all with deep relevance to their specific industries. We then activate this engagement by connecting users with tens of thousands of targeted providers of products and services to help drive business growth. Learn more about our company at penton.com. Penton is a privately held company owned by MidOcean Partners and U.S. Equity Partners II, an investment fund sponsored by Wasserstein & Co., LP.