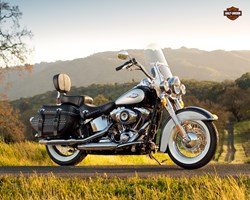 From the moment the wind hit my face, I was hooked. I absolutely love riding and you can't get me off of them now. Three years ago I never imagined myself even riding.

Christy Box, Harley-Davidson Softail winner.
Fayetteville, Arkansas (PRWEB) September 10, 2013
Russ Brown Motorcycle Attorneys and BAM, Free Breakdown and Legal Assistance for Motorcyclists, have announced the winner of the Russ Brown Motorcycle Attorneys Harley-Davidson Softail Motorcycle Giveaway. The lucky winner of the new 2013 Harley-Davidson Softail Motorcycle is Arkansas native Christy Box.
Christy Box has not always been a motorcycle rider. In fact, she was afraid to ride. A few years ago, her boyfriend Billy got her on a bike and she has not stopped riding ever since.
Christy's name was drawn during the Harley-Davidson 110 Anniversary bash in Milwaukee, Wisconsin at the House of Harley-Davidson. Christy will receive the new motorcycle on stage during the Bikes, Blues and BBQ's event in Fayetteville, Arkansas which takes place from September 18th to the 23rd. Motorcycle Attorneys Russ Brown and Chuck Koro, Official Legal Sponsors of Bikes, Blues and BBQ'S, will be there to present the grand prize to Christy in person.
Russ Brown Motorcycle Attorneys have been fighting for injured motorcycle riders across the Nation, on the road and in the courtroom, for over thirty-five years. Motorcycle lawyer Russ Brown created BAM, free breakdown and legal assistance for riders as a way to give back to the community. BAM offers riders 24-7 roadside and legal assistance, all free of charge. If a rider gets in trouble on the road, they just need to call 1-800-4-BIKERS and a fellow rider may be there to help.
To learn more about joining BAM, the free roadside and legal assistance program sponsored by Russ Brown Motorcycle Attorneys call 1-800-4-BIKERS or visit online at http://www.russbrown.com.