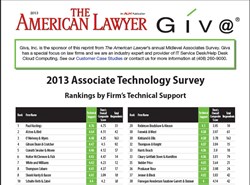 The degree to which a law firm can support the technology its attorneys depend on will directly impact how responsive attorneys can be to clients.

Ron Avignone, founder of Giva
Santa Clara, California (PRWEB) September 10, 2013
In an exclusive partnership with The American Lawyer (AM LAW), cloud vendor, Giva, today announced the 2013 law firm technical support and technology overall survey rankings from The American Lawyer's 2013 Midlevel Associates Technology Survey. These yet to be released and non public before today survey rankings are for the quality of technical support the law firms provide to their attorneys as well as the law firm's technology overall composite score.
The survey results are illuminating for any law firm COO, Executive Director or CIO that wants to assess if technology used by the firm's attorneys is well supported to maximize productivity and billings. Law firms can also learn where their IT department is trending; has survey rank increase or decreased from 2012 to 2013? Firms can also compare their rankings with other top law firms worldwide on a comparative basis.
As part of survey midlevel (third-, fourth-, and fifth-year) associates were asked to rate their firms' technology on a scale of 1 (low) to 5 (high) in four categories: the overall quality of the firm's technology, how well they felt they were trained, their estimation of the firm's technical support, and how successfully they thought the firm deployed technology on behalf of its clients. The technical support rankings are based upon the answer to the one question related to midlevel associates estimation of the firm's technical support. The firm's technology overall composite score is based on the average of the scores for the four questions.
Giva is the sponsor of this exclusive and not yet released survey data from The American Lawyer's annual Midlevel Associates Technology Survey. Giva has a special focus on law firms and is a legal industry expert.
Click to download PDF of 2013 Survey
Click to download Excel of 2010-2012 comparative survey data
Click to download PDF of 2012 Survey
Click to download PDF of 2011 Survey
"In today's extremely competitive legal market, technology is an important way that top law firms can truly differentiate their legal services," said Ron Avignone, founder of Giva. "The degree to which a law firm can support the technology its attorneys depend on will directly impact how responsive attorneys can be to clients. Technology vendors have brought tremendous and unprecedented hardware and software innovation to the practice of law including mobility in a BYOD environment. However, if a firm does not provide adequate training and outstanding technical support 24x7 to attorneys, then the investments do not generate a superior return-on-investment. The American Lawyer's annual survey is a great way to measure results on a number of important factors."
Learn more about Giva by taking a tour of Giva eHelpDesk or sign-up for a 30 day trial of Giva.
About Giva:
Founded in 1999, Giva was among the first to provide a suite of help desk and customer service/call center applications architected for the cloud. Now, with hundreds of customer driven releases, the Giva Service Management™ Suite delivers an intuitive, easy-to-use design that can be deployed in just days and requires only one hour of training. Giva's robust, fast and painless reporting/analytics/KPIs quickly measure team productivity, responsiveness and customer satisfaction resulting in faster and higher quality decision-making. Customization and configuration are all point and click with no programming or consultants required to deliver a substantially lower total cost of ownership. Giva is a private company headquartered in Santa Clara, California serving delighted customers worldwide.
PR contact:
Email: pr(at)givainc(dot)com
Phone: 408.260.9000
Giva is a registered trademark of Giva, Inc. Other company and product names may be trademarks of their respective owners.