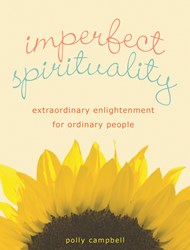 Practical tips for turning ordinary moments into opportunities for spiritual growth.—Publishers Weekly
(PRWEB) September 10, 2013
Most people can't afford to quit their jobs and trek to a mountaintop in the Himalayas to find enlightenment. Instead, Polly Campbell recommends turning what would be repetitive tedious chores, such as sweeping, folding laundry, and washing dishes, into spiritual practices. In Imperfect Spirituality, Campbell shows readers how to integrate these everyday moments with traditional spiritual techniques to increase their personal growth and well-being.
Polly Campbell shares weekly enlightenment on her website, ImperfectSpirituality.com. Her most recent article was about "mental contrasting" and how it increases the chances of reaching goals, and creating new achievable goals. "Mental contrasting helps you visualize success, after all it involves contemplating the outcome you desire, while keeping you honest about the obstacles you'll face en route."
For parents sending their children off to school for the first or second time, Polly also provides "Four Lessons for Living Through Second Grade and Beyond." She writes, "These are the basics. And, these are my lessons too, you see. If we can do these things we will be better. We will do better. We will feel better. We will love more. This is my practice. I hope [my daughter] chooses to take it on too."
Join Polly at Jacobsen's Books in Hillsboro, OR on September 21st at 4pm. Listen to her on the radio on Mind Over Matters Radio on September 16th, The Laura Longley Show on September 17th, Voices of the Sacred Feminine on September 23rd, The Richard Brendan Show on October 14th, and Mind Over Matters Radio on October 21st.
Imperfect Spirituality:
Extraordinary Enlightenment for Ordinary People
By Polly Campbell
Imperfect Spirituality is filled with practical tips and dozens of examples that will encourage you to amp up your optimism, let go of worry, and embrace your authentic self to offer your true gifts to the world. Imperfect Spirituality is also available as an audiobook.