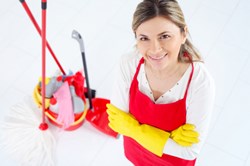 Burbank, CA (PRWEB) September 11, 2013
USA Business Insurance is announcing that affordable General Liability Insurance can be written for all companies in the janitorial services industry. The companies can be one employee sole proprietors and larger companies with multiple employees.
Any service that goes into small or large business offices and even personal homes does not generally like employees or home owners walking around while they are performing their jobs. If kitchen and bathroom floors are being mopped an individual could slip and fall, sometimes breaking ankles and hips. Also, when carpets are being vacuumed long cords are moved across the floors and passersby can inadvertently trip and fall. In either instance the cleaning service is held responsible. General Liability Insurance will protect the policy holder from having to pay medical bills as well as legal fees if an injured party files a claim or brings suit.
There are many instances when General Liability Insurance will kick in. Sometimes cleaners will use solvents that may trigger allergic reactions for either the client or clients' visitors. The physical liability is not limited to just bodily injury but will also cover instances such as this allergic reaction. The policy covers the insured against any claims of detrimental or hazardous chemicals used and damages they cause. It also covers customers should they come to the policy holder's office or industrial site. If an injury happens in the insured's owned or leased office space or warehouse, coverage is in effect.
Janitorial service managers have a great deal to concentrate on at any one time. Worrying about things that may happen should not be part of business as usual. General Liability Insurance gives the business owner peace of mind. There are times in the course of performing a job when an employee may knock an item off a desk or otherwise damage an item that belongs to the client. This insurance policy will cover the business owner from having to pay for damaged property out of pocket.
Another benefit of General Liability Insurance for Janitorial Services is that the policy grows as the company grows. Most cleaning services depend on growth through signing new clients. Rather than having to extend the policy each time a new customer comes on board, the coverage is automatic.
All of the coverage remains in effect even after the work has been performed. Sometimes a customer will call back months after a job has been completed and claim that work was not up to par or that a person was injured or property was damaged as a result. Perhaps carpeting has faded or upholstery has begun to deteriorate. Not only will General Liability Insurance for Janitorial Services cover any claims should the findings be positive, it will also cover the legal fees even when the business owner has been found not to be responsible for the damage or injury. If the claim was a result of a product purchased from a third party, the insurance will cover this as well.
To learn how General Liability Insurance for Janitorial Services will cover any business in the cleaning services industry visit http://www.businessinsuranceusa.com.
About USA Business Insurance: USA Business Insurance writes all forms of general liability insurance for many specialized industries. Seasoned professionals can answer all questions and suggest the proper coverage.