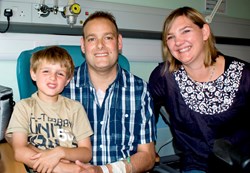 Tucson, AZ (PRWEB) September 10, 2013
SynCardia Systems, Inc. announced today that Matthew Green, the UK's 1st patient to be discharged with the SynCardia temporary Total Artificial Heart, has been successfully bridged to transplant after almost two years of support.
Green, his wife and their 7-year-old son celebrated his new beginning with a holiday.
"I feel incredibly lucky that I have been given a third lease of life as a result of my heart transplant," Green, 42, said recently. "It's hard to put into words the gratitude I feel to my donor and their family. They have helped me to turn my life around again."
Green, a pharmaceutical consultant from London, suffered from arrhythmogenic right ventricular cardiomyopathy (ARVC), a heart muscle disease that results in arrhythmia, heart failure and sudden death. Back in the late spring of 2011, Green's heart condition became critical. "By the time I was admitted to the hospital, I was struggling to walk even a few yards," he recalled.
"Matthew's condition was deteriorating rapidly and we discussed with him the possibility of receiving this device, because without it he may not have survived the wait until a suitable donor heart could be found for him," said Steven Tsui, Consultant Cardiothoracic Surgeon and Director of Transplant Service at Papworth Hospital. "The operation went extremely well."
Green received his Total Artificial Heart on June 9, 2011. He was discharged less than 2 months later, using the Freedom® portable driver, the world's first wearable power supply for the SynCardia Total Artificial Heart."Before the operation my heart beat was very weak and I could hardly feel my pulse," he said. "And now (with the Total Artificial Heart) it's a very strong heartbeat."
Delighted with his new human heart, Green noted that the artificial heart "kept me going" as he waited for his transplant.
The Total Artificial Heart, powered by the Freedom portable driver, allowed Green to live at home while waiting for a suitable heart donor. He went on outings, including eating at restaurants, while the Freedom driver, carried in a shoulder bag, powered the Total Artificial Heart's pumping mechanism with precisely calibrated pulses of air and vacuum.
Papworth Hospital is the first and only hospital in the UK certified to implant the SynCardia Total Artificial Heart. Papworth performed the UK's first heart transplant in 1979 and has been using mechanical devices to support patients with end-stage heart failure since the 1980s.
The Freedom portable driver is CE approved for use in Europe and undergoing an FDA-approved Investigational Device Exemption (IDE) clinical study in the U.S.
Read News Coverage Summer 2013, Matthew Green's heart transplant
Read News Coverage Summer 2011, Papworth's 1st Total Artificial Heart patient discharged
Read press release Summer 2011, Papworth Hospital
CAUTION - The Freedom portable driver is an investigational device, limited by United States law to investigational use.
###
About the SynCardia temporary Total Artificial Heart
SynCardia Systems, Inc. (Tucson, AZ) is the privately-held manufacturer of the world's first and only
FDA, Health Canada and CE approved Total Artificial Heart. Originally used as a permanent replacement heart, the SynCardia Total Artificial Heart is currently approved as a bridge to transplant for people suffering from end-stage heart failure affecting both sides of the heart (biventricular failure). There have been more than 1,200 implants of the Total Artificial Heart, accounting for more than 315 patient years of life on the device.
Similar to a heart transplant, the SynCardia Total Artificial Heart replaces both failing heart ventricles
and the four heart valves. Unlike a donor heart, the Total Artificial Heart is immediately available at
SynCardia Certified Centers. It is the only device that eliminates the symptoms and source of end stage biventricular failure.
The Total Artificial Heart provides immediate, safe blood flow of up to 9.5 liters per minute through each ventricle. This high volume of blood flow helps speed the recovery of vital organs, helping make the patient a better transplant candidate.
Forbes Ranks SynCardia #69 Among "America's Most Promising Companies"
In its February 2013 issue, Forbes selected SynCardia as one of "America's Most Promising Companies" for the second consecutive year. On the list of 100 privately held, high-growth companies with bright futures, SynCardia was selected #69, moving up eight spots from its #77 ranking last year.